Old Fashioned Boiled Fruitcake Recipe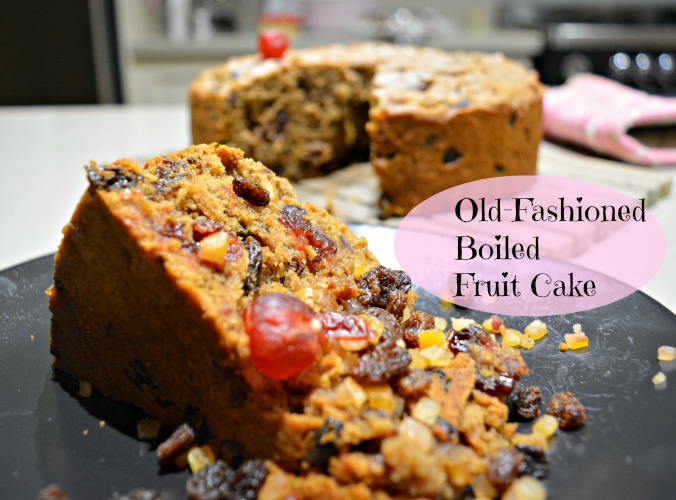 Old Fashioned Boiled Fruitcake Recipe
I must be on a roll lately with old fashioned recipes. Some of us girls were actually discussing amongst ourselves just the other week which were our favorite recipes of all time and everyone agreed that they were the ones that had always been around; the recipes that your mum and your grandmother made. They evoke happy childhood memories and the ones that stand the test of time usually do for a good reason; because they're easy, they're simple and they are delicious.
This recipe is my husband's favorite cake recipe of all time. Some might argue that a fruitcake is only for Christmas but I get requested all year long to make this and that's because my husband's mum used to make it for him. Every time he did her a favour or sometimes just because his mum would make him this fruitcake and pop over with it and he was beside himself with happiness.
As a slightly competitive daughter-in-law I made it my mission to try and come up with a cake BETTER than this one. I researched all my Women's Weekly cookbooks and went on-line to look for prize winning recipes and I made a LOT of fruitcake. I had ingredients as long as my arm and methods that took days – soaking fruit for up to a week in brandy. There was even a fruitcake cook-off at my husband's workplace as he kept dragging in more fruitcake to share because he couldn't eat it all on his own (and ahem, I won) but anyway, time after time this simple cake was declared the winner.
It's so easy to do too – you pop the butter, water, sugar, fruit and spices into a large pot and bring it to the boil, simmer for 10 minutes, then add the flours and egg and bake. That's it. It keeps for weeks (if it lasts that long) wrapped in foil and is super moist and rich. I snuck a little bit of extra spice and a glug of brandy into my MIL's version which just put me over the edge but if you're listening up there Joanie, thank you for making your son so happy! xx
Old Fashioned Boiled Fruitcake Recipe
Ingredients
500g mixed dried fruit
1 cup brown sugar
2 cups water
1 cup (250g) butter
2 tsp mixed spice (allspice)
1 tsp cinnamon
1 tsp baking soda
1 tsp cream of tartar
1 glug of whiskey or brandy (optional)
2 eggs, lightly beaten
1 cup plain flour
2 cups self-raising flour
Instructions
Pre-heat oven to 180C/160C fan-forced/350F. Line a 9" round cake tin with baking paper, extending up 2 inches over the sides.
In a large pot over medium heat, add the fruit, brown sugar, water, butter, mixed spice, cinnamon, baking soda, cream of tartar and whiskey or brandy if using. Bring the mixture to a gentle boil, then simmer for 10 minutes. Remove from heat and cool for 15 minutes.
Add the beaten eggs and flours, mixing well with a wooden spoon. Pour into the cake pan and smooth the surface.
Bake for 50-60 minutes or until top is golden brown and a skewer inserted into the centre comes out clean. Cool in pan for 10 minutes then turn onto a wire rack to finish cooling.
https://mumslounge.com.au/lifestyle/food/old-fashioned-boiled-fruitcake/