20 Christmas Gift Ideas for Mums Under $100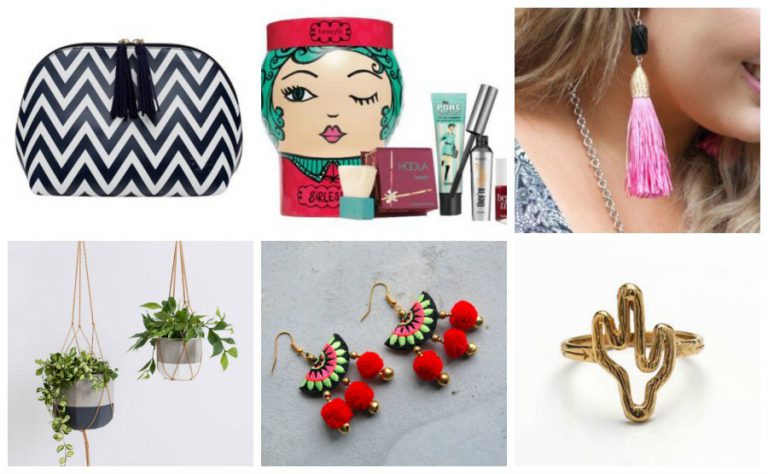 Most mums this time of year are exhausted. Christmas can be an overwhelming time as mums ferry children to end of year school concerts and parties to organizing lunch and presents for Christmas day, plus the general day to day activities of running a family and household. If anyone deserves a well-thought gift, mums would be it.
So it makes sense to spoil mum this Christmas, just to say thank you.
When choosing a gift for mum, think about the things she needs but wouldn't necessarily spend money on. Practical gifts will always be well received, but personal gifts are also gratefully accepted because sometimes it's nice just to receive something other than a household item everyone will get use from too.
With that said, we have found 20 gift ideas for mums under $100.
Practical Gifts
1. Cotton On Esther Cushion $34.95, 2. Ziggy Pot Plant Hanger $8.00, 3. Cotton On Nora Tassle Throw $69.95, 4. Ultrasonic Vapouriser in Pearl $99.95, 5. Pop up Laundry Basket $69.95, 6. Handmade Ceramic Bowls $21.79  7. Paper Wine Bag with Handles $39
Accessories
1. Ruby Olive Cascade Waterfall Necklace $48, 2. Louenhide Audrey Clutch in Navy Chevron $29.95, 3. Black and Fuscia fringe earrings $49.95, 4. Speckle Print Wallet in Aqua $49.95, 5. Pom pom earrings $10.88, 6. Adrift Amal Edwina Scarf in navy $49.95, 7. Spell Designs Cowgirl Cactus Ring $89.95
Gift Vouchers & Hampers
1. L'occitane Shea and Cherry Ornament Duo $36.00, 2. Birdsnest Gift Voucher $50, 3. Benefit Girlesque Gift Set $85, 4. Christmas Treat Hamper $80.50, 5. Sugar and Spice Hamper $48, 6. Dusk Vanilla Bean Candle Set $54.99
If you're still looking for ideas on what to buy mum for Christmas, check out these other gift guides for ideas.
Christmas Gifts For Grandparents (and great-grandparents)
Etsy Christmas Gifts Make For Good Project
Disclaimer: There are affiliate links on this post. Should you choose to purchase an item, we will receive a small commission at no extra cost to you.