6 Surprising Benefits of Teaching Your Child to Swim from an Early Age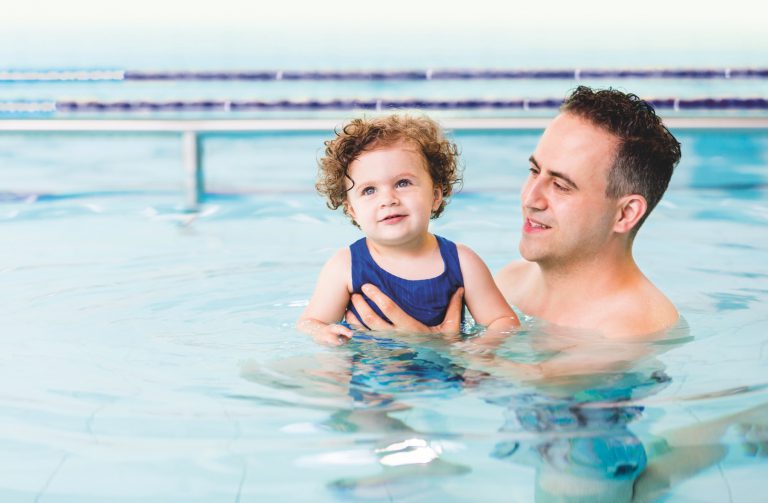 6 Surprising Benefits of Teaching Your Child to Swim from an Early Age
I'll never forget the call I received around 10 years ago to tell me that a young boy that shared the same room as my own toddler at day care had drowned in a tragic accident in his neighbours' pool. Just imagining his parents' grief was unbearable and the thought that it could have been my own child was just too painful to comprehend.
As a child, although I'd taken part in a school swimming program that consisted of a few lessons each year and had mastered the basics, swimming hadn't been a consistent skill that I'd built on over the years (my father had never learned to swim at all) so even as an adult I'm not what you'd call a 'confident swimmer.' But that day, after receiving that call, I knew that I had to make teaching my own children to swim at a young age a major priority. I wanted them to know how to be safe around water, and unlike me, also be able to reap the many life-long benefits that learning to swim and building confidence around water would afford them.
Teaching children water safety and the related skills that could potentially save their life is often the number one motivator for parents when they make the decision to enrol them in swimming lessons. But as I have discovered, there are a myriad of other benefits to teaching your child to swim, some of which may actually surprise you.
Can Help with Academic Skills Including Reading and Writing
Yes, believe it or not swimming can help your child with academic skills. Swimming is what is known as an ambidextrous activity so not only does it help with the development of gross motor skills and co-ordinations, it also helps to develop both the left and right hemispheres of the brain. This can boost language development and help children to learn to read and write more easily.
Can Promote Confidence and Self-Esteem
Learning to set goals and achieving them through continued practice can be a powerful motivator in children. They learn to take pride in their achievements and are eager to continue to improve. Furthermore, children who swim year-round have been found to be more self-disciplined, confident and self-motivated. These traits, of course, can be very helpful to children throughout their school career too.
Great Way to Make New Friends
Both children and their parents can make new friends at the pool!
Children who learn to swim together build bonds based on fun and trust because they learn from an early age how to interact safely with each other in water.
Swimming lessons also involve various games and activities which allows children to have fun together and build friendships.
Can Help Children to Build Trust and Alleviate Anxiety
Some children are naturally more cautious or fearful of certain situations. It is important for children to have a healthy respect for water without being fearful. Starting a child in swimming lessons at an early age promotes both awareness of the dangers posed by water whilst also helping them to remain confident and relaxed around it.
The sensory experience of being in water, stimulates the senses and can be both relaxing and fun.
Kingswim Dingley Centre Manger, Joanne Franklin said as a mother she understands the importance of children being comfortable in the water from the get-go.
"The early years is the prime time to learn a life skill like swimming," she said.
"We see day-in-day-out the improvements in ability and confidence with the kids who've been swimming with us since a young age.
"Whether your child is 12 months or 12 years old, like you, we've been there before.  It's the little things we do both in and out of the water that make learning this essential life skill a meaningful and enjoyable experience for parents and kids alike."
Griffith University Professor Robyn Jorgensen said the benefits of enrolling your children to swim school early are tenfold.
"Parents usually enrol their children in swimming so they will be safer around water, but there are far more benefits from learning to swim," she said.
"Where there is a high-quality swimming school, children can learn more literacy and numeracy skills, can gain wonderful social skills and it can help in the school transition process. Learning to swim offers much more than water safety and swim skills."
Swimming is Great for Children with Asthma
Unlike running, or other team sports, swimming is less likely to trigger asthmatic symptoms in children with asthma. This allows them to take part in and enjoy exercise whilst also offering the additional benefit of improving their lung capacity, breathing and overall fitness.
Swimming is Great for Overall Health and Fitness
Swimming is a whole body cardiovascular and respiratory workout that helps to develop a whole host of body benefits such as stamina, flexibility, concentration and muscle strength. That's why children who swim regularly tend to be stronger and more co-ordinated.
Finding a Swim School Near You
Kingswim has taught more than 14 million swim lessons to Aussie kids over the last 30 years. Kingswim offers programs for babies from 12 weeks of age right through to graduate level swimmers at its 20 centres across the country. For more information on Kingswim programs and the benefits of year-round swimming please visit www.kingswim.com.au