Bride Claims to Have Deliberately Fattened up Her Bridesmaids Before Her Wedding so She Would Look Better Than Them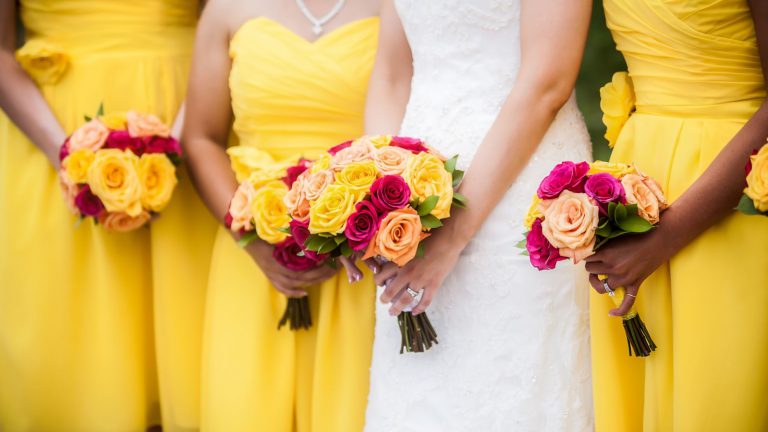 Bride Claims to Have Deliberately Fattened up Her Bridesmaids Before Her Wedding so She Would Look Better Than Them
We've heard a lot about bridezillas in the news lately. Whether we are seeing a spike in brides turning into raging bitches or that it has become a popular trend to reveal their self-absorbed entitled ways remains to be seen.
Either way, the stories keep right on a-comin', with each bridezilla behaving worse than the last. We had Susan, the angry bride who went scorched earth on Facebook after her nearest and dearest refused to pay thousands of dollars to attend her Kardashian-inspired wedding. Then there was the bride who emailed a list of demands including the request that no one wears makeup or speak to her at all on her big day.
The latest bridezilla story to go viral is the one where the bride secretly chose to fatten up her bridesmaids and dress them in an unflattering colour so that they would not outshine her on her wedding day. To make matters even worse, her bridesmaids were her own sisters!
Writing her confession over at Whimn, the bride revealed her dastardly plan after the fact, adding that her sisters have since lost the weight so it's all okay now and she only feels a tiny bit of guilt sometimes when looking at her wedding photos. Seriously, this is like a script straight out of the reality TV villain playbook.
She writes:
My sisters and I have always been competitive with each other. I'm the second of three girls and we're all super close. We all live together, along with my fiancé.
Both of my sisters are gorgeous. I mean, stunning. I always felt like Jan Brady in the middle – I wasn't as hot and popular as my older sister and I wasn't as cute and fun as my younger sister. I was just in the middle. But I found a man who loved me for me and I couldn't be happier.
I started to think about what my wedding photos were going to look like. These are going to be on display in my home forever – I don't want to be reminded until my last day on earth that I was the plain sister.
So I did what any bridezilla would do.
I set about making sure my sisters looked as ordinary as possible on my big day – well, as much as I could without being totally obvious about it.
We're all fair-skinned and blonde, and I demanded that the bridesmaid dresses wore a neon yellow that made them look washed out and slightly ill. I told them I was going for a fun, party look but I was thrilled that colour made them both look pallid.
But by far the worst thing I did was to fatten up my sisters in the months leading up to the wedding. Every morning I was a picture of sunshine and morning glow as I insisted on making breakfast smoothies for everyone. I told them I wanted us all to look our best on the big day, so I was making them this special slimming smoothie.
I even went as far as buying a weight loss shake and emptying the contents, filling it instead with a mega-weight gain protein powder I found in a bodybuilding shop. At first, I went easy but by the month before the wedding I was adding triple the prescribed amount into their smoothies, leaving my own simply as fruit and coconut water.
By the time my wedding rolled around, each of my sisters had to have their dress altered to accommodate their thickening waistlines.
The day went off without a hitch and everyone had a great time. I never thought for a moment on my wedding day that I wasn't the centre of attention or the most important person in the room.
And now, when I look back on my wedding photos – as I do often as we've got them displayed around the house – I sometimes feel a twinge of guilt that I'm standing there glowing and gorgeous in my bridal gown, and my sisters are looking washed out and chubby. But mostly I feel happy.
My sisters have both since lost the weight they gained in the lead-up to the wedding, and I'm glad about that. Sometimes they ask me to make those delicious smoothies I used to make, but I tell them the weight-loss shake has been discontinued. I make them toast instead.
Come on, lady. Come. The. Fuck. On.
Who does that to their own sisters that they are allegedly close enough to live with as adults and trust with all their personal shit? This bride is trash juice on a hot summers day.
Not a good look, folks.
*edited slightly for clarity
Source: Giphy and Whimn