Autistic Boy With No Friends Receives 20,000 Birthday Cards After A Facebook Plea From His Mum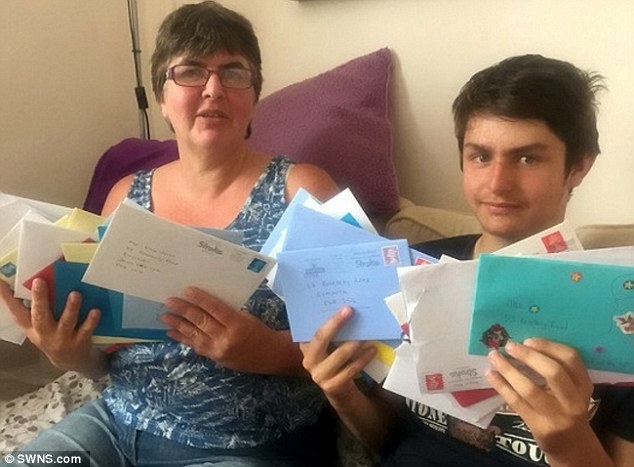 When a mum made a cry for help on Facebook, she had no idea the amount of support and help she'd receive.
Mum Karen, 49, was devastated to watch her autistic son Ollie make two birthday cards for his 15th Birthday as he didn't expect to get any from anyone else as he had no friends.
Karen told the Daily Mail, 'He has no friends because of his autism and when I saw he had made the cards it pulled my heart strings.
'I thought maybe we could just try to get him a few extra cards this year.
'So, I put a little post on Facebook asking people to send him birthday cards and now I'm having messages from all over the world.'
Karen and Ollie didn't expect to get the cards and gifts that arrived on their doorstep in time for Ollie's 15th Birthday. The cards and gifts have been sent from around the world.
Ollie received 50 cards on the first day, but then the crates of cards and gifts arrived in their tens of thousands. Karen estimates they have received 20,000 birthday cards, at least 3000 more than what the Queen receives each year for her Birthday.
Their house is filled to the brim with cards and gifts from kind people around the world. The single family have been offered a weekend away and an Xbox was sent from Saudi Arabia.
The phone has also been rung off the hook with well wishes.
Karen has put a sign on the door after receiving many callers wanting to drop in to wish Ollie a Happy Birthday.
Karen has said the Birthday message have given a boost to her son's confidence. He loves opening envelopes but knows it will take her son a long time to get through the cards and to reply to each one of them.
She added: 'It just brought tears to my eyes, I thought 'oh my god', it was a lump in the throat moment.
'All I can say is thank you, the kindness, love and goodwill of everyone has been phenomenal.
'I think he's going to have a brilliant time for his birthday, we've been joking he will be opening them all year.'
'I'm trying to reply to everyone, it's just gone pretty mad.'
Ollie has been overwhelmed by the amount of cards and gifts arriving in the mail. 'No one gives me birthday cards, just me.
'It's fab, amazing and fun – but not so many next year please mum.
'Where are we going to put them all?'
Happy Birthday 15h Birthday Ollie!