Get Organised: 10 Days of Back to School Jobs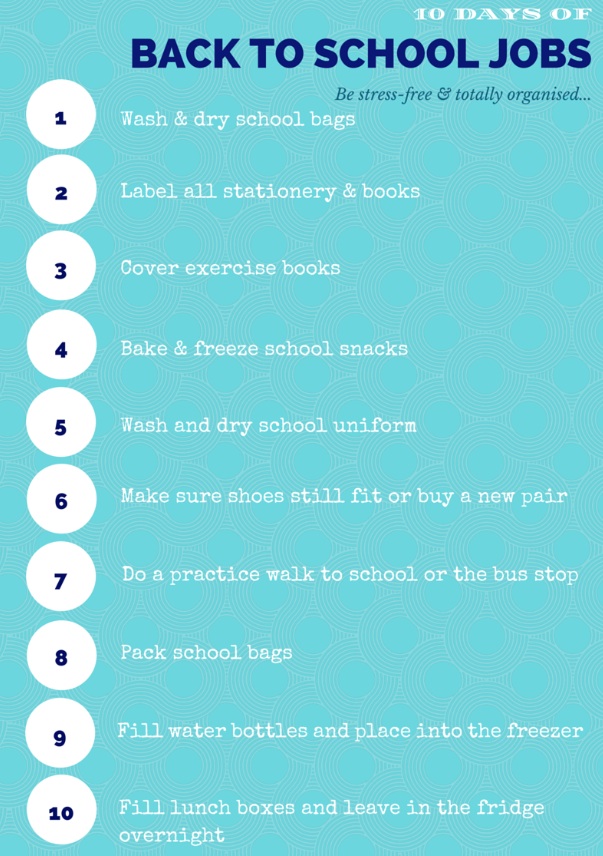 Get Organised: 10 Days of Back to School Jobs
Start off by washing school bags from the year before and hanging them out to dry. You'll be amazed at what you'll find at the bottom of those things… eeeek!
Next up, if your child's teacher has asked you to label all of their school books and stationary then get to it. Many teachers prefer to do the whole class's books themselves… in which case you can have a day off (and you should totally buy your child's teacher a cup of coffee to say thanks when school gets started – it's such a time consuming, boooring job!).
Make your child's exercise books easy to identify by covering them with coloured contact. Let your little one pick out their favourite contact so that they have some ownership over their books.
On Day 4 it's all about getting busy in the kitchen. That's right, whip up a batch of sausage rolls, savoury muffins and some slices and then cut into individual portions and pop into the freezer. You are soooo going to appreciate doing this when the second week of school rolls around and you're pulling your hair out!
If it's a sunny day on Day 5, then lucky you! Pop all of your child's school uniform into the wash for a nice freshen up.
The start of the school year means that it's shoe fitting time. If you're lucky your child may still fit into last years shoes, but if not, it's time to hit up the local shoe shop. Go for something comfy that they can run around in. It's important to remember that your child will be wearing these shoes for about 8 hours every single day, so comfort is key!
To reduce any first day anxiety, do a practice walk to the school or the bus stop. If you make it all the way to school, then have a quick play on the play equipment – this will get them excited about coming back to school.
It's a great idea to pack your child's schoolbag a couple of days early. It's one less job to worry about on the first day of school – and it also gives you the chance to buy anything you realize you need (sunscreen anyone!?).
Scrounge through your plastics cupboard and find a refillable water bottle. Fill it with water and pop it into the freezer. Take it out either the night before school, or in the morning, for a super cool drink.
The night before school starts, pack your child's lunch box and pop it into the fridge, all ready to go! If you're super organised, you might like to make a whole weeks worth of sandwiches and freeze them.
And that's it! You're totally sorted for a smooth and stress-free transition back to school!
Check out the complete Mums Lounge Back to School Guide here