Confession: I Love Costco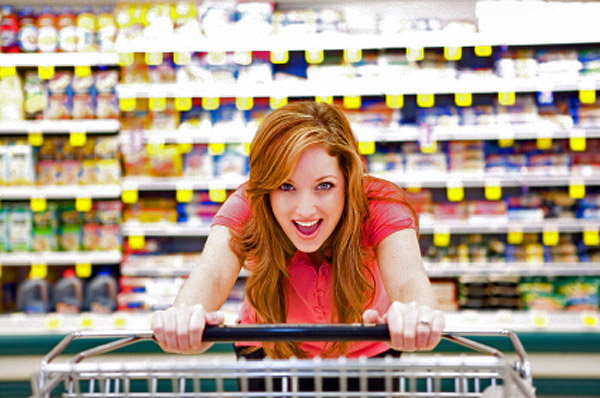 Confession: I Love Costco
Have you been to Costco yet? If you have, did you love it or hate it?
I am firmly in the former category as I love, love, love, LOVE everything about it. Some nay-sayers refuse to even poke their head in the door because they don't want to fork out for a membership. Others say it's not for them because they lack the necessary storage space for the bulk-buys. I think it's worth every cent of the membership price, and have lots of rooms to store my loot so make a trip every 3 months or so and always look forward to it. I was not asked, sponsored or paid to write about Costco. This is just a place I have a passion for and I wanted to share it.
Costco is an American owned company and is the largest membership only warehouse club in the world. It began in the state of Washington in 1983 and there are currently 729 warehouses across the US, and 8 in Australia.
Costco sells its' products at low prices but at high volume. Everything is mega-sized or packed in multiples. Costco's premise is based around low profit margins and if there's a popular item they can't sell cheap enough, then they don't stock it at all. For example they temporarily stopped selling Coca-Cola products because Coke refused to lower its wholesale prices.
They keep their prices low by employing minimum staff, maximise the use of sky lights to light up their stores and by the extensive use of pallets to "stock the shelves". On average most products have just an 8 – 10% markup while their own signature line, Kirkland, has a 15% markup. They also have an extremely generous return policy, allowing customers to return almost all of their products with a full refund if they are returned before the product expires. TV's, camcorders, phones and computers can also be returned within 90 days of purchase for a refund, for any reason.
In order to shop in Costco you must purchase an annual membership for $55 per person, show your card when you enter and again when you check out.
So what do they sell? Or rather, what don't they?
From the moment you walk into one of their massive warehouses your senses are over-loaded. Start by grabbing an over-size shopping trolley (trust me, you will fill it) and then pick an aisle and work your way through the grid. The aisles are wide, long and stacked to the roof with everything under the sun. Just to start, there is books, clothing, computer software, TV's, stereos, phones, furniture, appliances, playground equipment, golf clubs, kayaks, bicycles, tools, hot tubs, jewellery, luxury handbags, linen, toys and vacuums on offer. And there's anything and everything to fit out a kitchen from dishwashers to toasters and mixmasters.
You can even buy prescription glasses from their in-house optometrists or tyres for the car. (And yes it's true, you can even buy a coffin).
Stock up on massive quantities of bargain priced paper towel, toilet paper and cleaning products. But be warned: go in knowing what prices you currently pay when items are on sale in your local grocery store as sometimes they can be cheaper than Costco's "regular" priced items which never go on sale.
But the food: OMG the food. Everything is giant size. In the snack section you will find huge bags of nuts, pretzels and chips, giant tubs of caramel popcorn, and bags and boxes of every kind of lollie and chocolate. In the refrigerators are 2kg blocks of cheese in every variety available, multi-packs of yogurts and other dairy, vacuum sealed packs of bacon and lunch meats, pre-packed meals and more. In the centre aisles browse through enormous boxes of cereal, and multiple packs of staples like tomato paste, drums of cooking oils, 20kg bags of rice, beans – the list goes on.
In the frozen food aisle you will drool at what's on offer; jalapeno poppers, burgers, taquitos, pies, lasagnas. There's even an in-store pizzeria (cooked or to take home and cook), rotissierie chickens, massive platters of freshly made sandwiches, platters of prawns with dipping sauces, fried chicken pieces with hot sauces, salads and delicious meals ready to pop into the freezer, oven or microwave. Um, party anyone? Not to mention the fresh breads, delicious cakes, cookies, muffins and desserts pouring out of the bakery at every hour. I used to buy the 12 pack of giant variety pack muffins and freeze them for lunches. They are super fresh and really delicious. They sell premium export quality meat like you have never seen anywhere else ($$ though). Huge racks of pork spare ribs, trays of king size rib bone-in roasts, shoulders of pork and lamb and everything else you can think of.
My favorite time to visit is before Christmas. Not only are there cool toys you won't see anywhere else but there is the BEST selection of gorgeous, quality, giant rolls of wrapping paper, beautiful gift bags, massive boxes of matching ribbons and bows and the most lovely, 3-D tags to put on all the presents! Even at Halloween there are some must-have gigantic battery operated props you won't find anywhere else. This stuff is straight from the States.
Some of the things I regularly stock up on are: toilet paper, paper towel, face wipes, huge packets of uni-ball pens,
dog treats, dishwashing liquid, cleaning supplies, 6-packs of tomato passata, 2 litre bottles of maple syrup, 500ml tubs of real vanilla bean paste (a massive bargain), big tubs of spices I use regularly like paprika, cinnamon, basil and oregano, and Carman's muesli bars. I always check out the book section where I have scored some awesome fresh-off-the-press cook books and have acquired some really cool kitchen accessories like unique serving dishes and cool storage containers.
I even fell in love with, and bought one of their gigantic Costco bears (which now lives with my son James and Danni because he practically needed his own bedroom). They even have their own Instagram page #costcobear.

And of course on the way out, pushing and filling that giant trolley has probably made you hungry so stop at the food court. The menu is the same world-wide; hot dogs, pizza, frozen yogurt, drinks and sandwiches. A hot dog and large drink is just $1.99.
Now I just need the to build one an eensy bit closer to home! #costcoinpakenham xx