What Happened When I Tried the 'Rubber' Modelling Mask Trend (Plus Giveaway)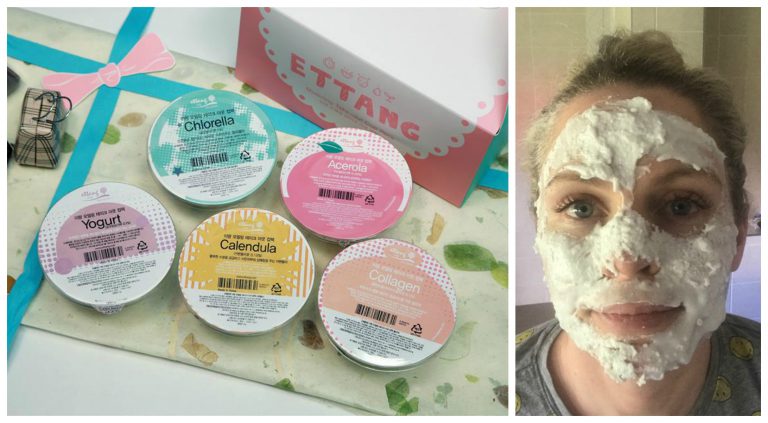 What Happened When I Tried the 'Rubber' Modelling Mask Trend (Plus Giveaway)
Product review and giveaway
In need of a major pick me up, but don't have the time or the funds to book yourself in for a much needed, well-deserved spa treatment? Well, fear not, because I'm about to tell you how you can DIY yourself a bit of R&R in the comfort of your own home so you can look and feel fabulous. If you haven't already, it's time to jump on the Korean rubber face mask trend sister…because once you do, you'll never look back.
Last month, Paula and Tania, the lovely ladies from Femme.Co sent me a selection of Korean beauty masks to try, and amongst them were some modelling masks. The cold Melbourne winter had left my skin dull and dry, so as you can probably imagine I dived head first into trialling them…quite literally!
What are Modelling Masks? 
Modelling masks come in powder form in a cup, to which water is added. The alginate, an ingredient derived from kelp, congeals when in contact with water and turns rubbery. When applied to the skin, it prevents any evaporation, sealing in moisture to keep skin hydrated whilst 'force feeding' your skin with nutrients.
Ettang is a Korean brand which translated means 'from the earth.' They use the finest natural raw minerals and exclude harmful chemicals and are devoted to providing cosmetic products that provide real benefits at a reasonable price.
How to Apply a Ettang Modelling Mask
Whilst modelling masks have been a staple at most Korean spa salons for over 10 years, DIY masks that can be mixed and applied at home are relatively new. Being a complete newbie to the modelling mask party myself I decided to do a quick google before I gave the Ettang Collagen Mask in a Cup a whirl, just to be sure I was doing it right. Seriously…there are soooo many Youtube videos out there of women raving about them whilst slapping various coloured goop over their faces. I wanted in on the action!

To get started you need to add 53ml of water to your container, and then mix vigorously. Now is not the time to get distracted by one of the kids or a phone call or something because you only have a small window before your mixture starts to turn rubbery, and then its game over. So I highly recommend applying the mask when you have some time to yourself, or when you know you won't be interrupted.
Once mixed go ahead and spread it over your face starting with the cheeks, chin, nose and finally the forehead. Don't worry if yours doesn't come out looking like a silky smooth work of art – just spread it on thick (this makes it easier to remove later) and leave it for 15-20 minutes to work its magic.  Forget the dishes piled up next to the sink, and the washing that needs to be folded! The next 20 minutes are all about you baby! Put your feet up, listen to some music or read a book – whatever makes you happy!
If you thought smearing this cool putty like substance all over your face was fun, just wait until you get to peel it all off. Remember being a kid and seeing if you could peel an orange in one go without breaking the peel? Yeah…that's me with the modelling mask! Oh, and just so you know…if you are picturing something akin to those videos floating around Facebook of people screaming in agony as they peel off their black face mask…it is NOTHING like that. The mask peels away easily and gently…and it's childishly satisfying.
But the best part hands down, is how amazing your skin feels afterwards. It felt firm and incredibly smooth and soft, and the pores across my nose were barely visible! Winning!
The Verdict
I'm hooked!
As a general rule I'm not one for spa treatments or regular visits to the beauty salon (unless I have a special event or occasion coming up). But I can certainly find the time to pop on a modelling mask once or twice a week and spend 20 minutes doing something just for me. The difference in my skin has been significant – not a dry flaky patch in sight and as smooth as a babies bum! Considering a 4 pack of Ettang Modelling Take Out Cups will only set you back $27.95 (including shipping) it's a really affordable pamper session that I don't have to feel guilty about doing on the regular.
Disclosure: I was gifted these products for the purpose of an honest review. All thoughts and opinions expressed here are my own.
Win an Ettang Pamper Pack of 8 Modelling Masks valued at $49.95
But it's not all about me! Femme Co are giving you the opportunity to try out this super cool Korean beauty trend for yourself by giving away 8 of their Modelling masks in this perfect pamper pack. Included in the pack are:
Ettang Modelling Take Out Cups in;
Yoghurt (x2) smooths skin and brightens skin tone
Collagen (x2) Aids skin elasticity, and provides a nutrition supply for smooth skin.
Calendula (x2) used for many years as a topical skin treatment. It is gentle and soothing to relieve dry and irritated skin, reduce redness
Paper Mulberry (x2) brightens and whitens your face to even out those dark areas
For your chance to win, simply complete the entry form below.  Good luck!