Let the Cooking Games Begin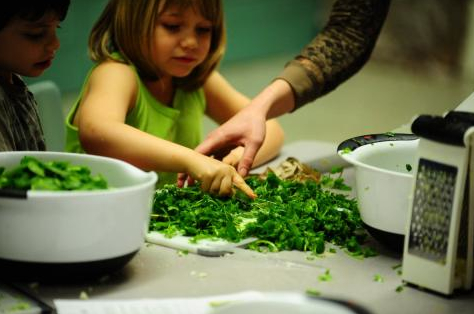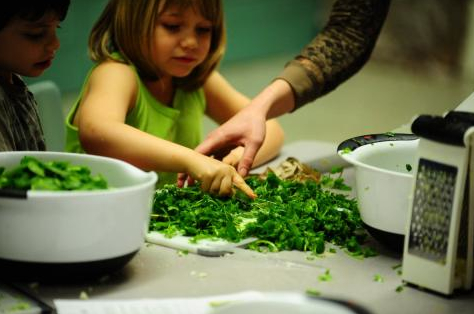 Image source
You do not cook as much as you would like? I know, me neither. Regardless of that, I try to look at cooking not only as part of our daily process, but as an activity that can bring a lot of togetherness and satisfaction among society, and by 'society' I mean both small and large.
It is clear that some of the these steps have been made in the kitchen by the more gourmet chefs, but how to help those that are just starting to enter the interesting world of food and cooking and to fall in love with it. Today I bring you 5 tips that may help you in that gourmet mission, and a cute short story, in which a recipe is hidden.
1. Feed them well – and by this I do not mean expensive.
Go to the markets and arm yourself with seasonal ingredients, look for proven recipes and give your child a really tasty homemade food. This is the first and basic step.
2. Take your child with you to purchase the groceries needed.
Let them meet and get to know the market ladies – they will always be happy to answer any questions children ask, and you yourself can tell your toddler how cheese is made or where mushrooms grow. The sheer number of seasonal colours will more than likely make him as happy as the colours on the supermarket shelves if not happier.
3. Let your kitchen be a playground.
The next time you have an hour or two free where you can unconditionally dedicate time to your child, roll up your sleeves and make something together in the kitchen. You will be surprised with how much kids can do themselves. Let them chop fruits and vegetables, let them measure the ingredients and mix them. It would be a good idea for the both of you to wear an apron. Here is an easy rainbow cookie recipe that you can try to make with your kid.
4. Pay attention to safety.
Each playground needs a safety net therefore you need to make sure that your child is safe in the kitchen. Start with mandatory hand washing, make sure that the pot handles don't go over the stove and the knives should always be put away. Give your child plenty of room to work, and if necessary, a small, wide stool on which they can stand up to see what is happening. Also, make sure to keep them occupied so that they don't get bored and touch something that they shouldn't.
5. Do not force.
For you cutting biscuits with a biscuit mould may be the most interesting thing in the world but your child may not necessarily agree with you. If you notice that your child is beginning get a little bored let him do something else or pack your stuff up and do something else or go to the shops for some colourful cupcakes (if you are from Perth, I highly recommend the cupcakes from Cake Factory). It is better to make a few cookies less then to create a dislike for cooking. Remember do not seek for perfection as you yourself are no Anthony Bourdain, even though it wouldn't be a bad idea to mimic his relaxed attitude.
6. And as a bonus:
Despite all the warnings and precautions, expect a "flood and disorder", but – do not be mad! Enjoy and have fun! Your child will always remember your time together.
The Story
"Mommy, my good friends are coming tomorrow and I want something nice, a real treat to prepare for them. What do you think about this, Mommy? – Well you know that with your help mommy will do everything. – Huh, I have thought of something tasty, made from chocolate, small and round … chocolate balls! Mommy, you can melt the chocolate, add boiled whipped cream and stir until it forms a smooth texture. Once it cools down, that is where I step in.
I will shape the balls and will roll them in the melted chocolate, then will roll them in cocoa, grated chocolate, coconut or chopped nuts. I can hardly wait for my friends to come to see their expressions while they enjoy these tasty chocolate balls that simply melt in your mouth. Who knows, maybe we can keep some for dad."
Michelle Lee is an ex-journalist and a blogging beginner from Perth. Although she is a working mom, she finds time to research and study the topics that are important to her, which are mostly health related. Having dealt with autism in her family, she understands what is really important in life, but she still enjoys "girly" stuff like fashion and cooking. Follow her posts @ecellulitis