Parents Misunderstanding Their Kid's Innocent Questions with NSFW Adult Answers is GOLD!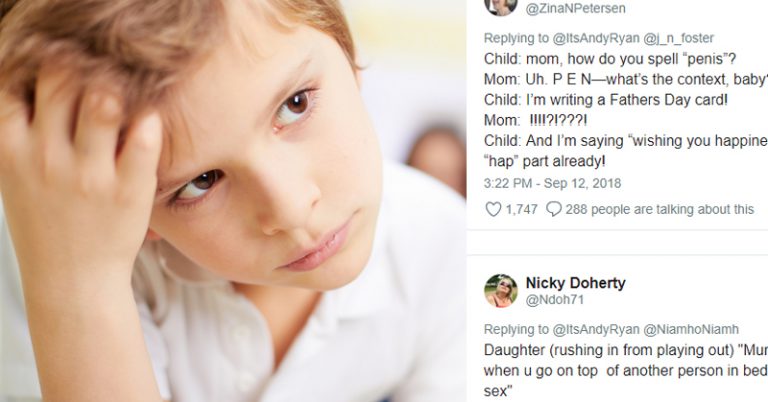 Parents Misunderstanding Their Kid's Innocent Questions with NSFW Adult Answers is GOLD!
Has your child ever asked you a question that you totally misunderstood, thinking they were asking about something of a very adult nature, when in fact the question was totally innocent?
That happened to dad Andy Ryan, and his tweet recounting the conversation he had with his daughter has prompted a hilarious thread full of MA 15+ misunderstandings other parents have had with their inquisitive children.
Daughter: What does gays mean?
Me: Well you know mum and dad love each other – two men can love each other the same way
Her: So what's 'penetrating gays'?
Me: Er… read me the whole sentence
Her: "She stared at him with a penetrating gaze"
Me: Oh

— Andy Ryan (@ItsAndyRyan) September 11, 2018
Other parents were quick to respond with their own hilarious misinterpretations:
This reminds me when my little brother asked me what a "ho" was and I told him that wasn't a nice word where did he learn it from? Then he replied "my farming game" 🤦🏼‍♀️

— Zainab Alsayegh (@ZainabAls) September 12, 2018
Playing murder mystery game with child. Reads character sheet. "Mum what's porn" "er naughty pictures of ladies naked" "ohok" later…..
"And then I had to pawn the necklace to settle my debts" pic.twitter.com/Lx3EFIHnz0

— E_III_R 🚀 (@E_III_R) September 11, 2018
7 year old son was learning to read and asked what semen was. I began to explain but then I started to wander why that word was in a children's book. So I looked at the page. It said "c'mon"

— Liz (@LingoAcademy) September 12, 2018
My son once got home from school and asked if the "c" word was a bad word. "Well I'll let you say it this one time. Because it could be really bad or nothing." It was crap. "Hell no. That's not a bad word."

"What's the word you thought it was, mom?"

— Linda Watson (@theLindashow) September 12, 2018
Child: mom, how do you spell "penis"?
Mom: Uh. P E N—what's the context, baby?
Child: I'm writing a Fathers Day card!
Mom: !!!!?!???!
Child: And I'm saying "wishing you happiness" and I got the "hap" part already!

— Zina Petersen (@ZinaNPetersen) September 12, 2018
Daughter (rushing in from playing out) "Mum what's it called when u go on top of another person in bed?"Me "Erm it's called sex"
Daughter "OK" (rushes back out)
5 mins later.
Daughter (rushing back in) " Mum u r wrong – it's called bunk beds & Emilys mum wants a word with you"

— Nicky Doherty (@Ndoh71) September 12, 2018
My niece asked a question about "French kissing" when she was little, which made for a brief awkward moment until we realized she meant kissing people on alternate cheeks.

— Michael Hat ︽✵︽ (@RexDart1) September 12, 2018
My then 3 year old after meeting my gay friend and his BF asked if he was "special" or "regular like you and Dad" I explained that love is love etc

"But is he special? He worked at Disneyland? Does he have special powers? Like Hercules?"

— Gretchen Swanson (@GTS206) September 12, 2018
Wonderful thread! Must add
'Mummy, where did I come from?'
'Well, ….. ' basic biology ..
Puzzled child ' But new boy at school comes from Birmingham '

— Norah C (@Norahe7) September 12, 2018
Sometimes, it was the children that were doing all the misunderstanding!
2 years ago, my then 10-yo came to us, novel in hand, and announced "If this means what I THINK I means, I should NOT be reading this book!"

She was appalled that author wrote that two characters had "exchanged pleasantries".

That term is now our family's go-to euphemism.

— Just Dave (@d_m_s_1972) September 12, 2018
As a young'n I was scandalized by someone "kissing her temple" in a book. I had never heard of a temple before on a body and all the to-do about virginity being sacred made me think it was an obscene act.

— Julie V. (@wishingbee) September 12, 2018
My little nephew called me once and said a doctor wanted to remove his "testicles" and my sis in law screams in the background "tonsils! Omg tonsils!" So it was a rollercoaster of emotion for 30seconds

— K.M. Galvin (@KelsieGalvin) September 12, 2018
Have your children asked you any questions that you thought might have been inappropriate but turned out innocent? Share them with us in the comments!
Source: Twitter/Andy Ryan