Kids Pizza Rounds Recipe (with non-slip topping!)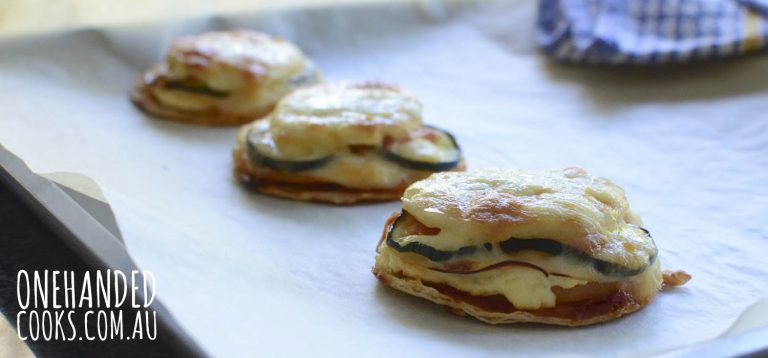 Delight the kids with these yummy pizza rounds. This little creation was designed so that toddlers can eat their pizza without the toppings sliding off and onto the floor. Perfect for little hands this delicious finger food is great for lunch, or just a healthy snack tucked into a lunch box.
Ingredients
Makes around 8 mini pizza rounds
4 slices good quality cooked turkey (or ham)
1/2 sweet potato, peeled
1 potato, peeled
1 zucchini
3 tbs ricotta cheese
1/2 cup grated cheese
2 slices wholemeal pita bread
Tomato/onion sauce*
(or use tomato paste if you're in a hurry)
1 tbs olive oil
1 medium brown onion, finely chopped
1 clove garlic
410g can tomatoes
1 tbs chopped fresh basil (optional)
*This makes far more than you need, but is a wonderful base for many meals, so freeze the rest in small portions.
Method
Preheat your oven to 180°C.
1/ To make tomato sauce, heat oil in a small saucepan, add onion and garlic and sauté for a minute, add tomatoes and simmer for around 10 – 15 minutes or until sauce has reduced. Stir through basil (optional) and set aside.
2/ Using a sharp knife, cut 8 circles out of the pita bread. I used an egg ring as my guide. Then slice each of the vegetables as thin as you can and trim to roughly match the pita circles.
3/ (Optional) Depending on the vegetables you are using, you could briefly steam the slices to ensure they are cooked through.
4/ Layer the pizzas – pita round, tomato sauce, sweet potato, ricotta, turkey, zucchini, potato, grated cheese.
5/ Place in the oven for around 8 – 10 minutes or until the cheese is golden and the pita is just crispy.
Contributed by the One Handed Cook.
Web: www.onehandedcooks.com.au
FB: www.facebook.com/onehandedcooks
Twitter: https://twitter.com/OneHandedCooks