WATCH: This Captivating Video Will Leave You in No Doubt That You and Your Baby Share an Incredible Bond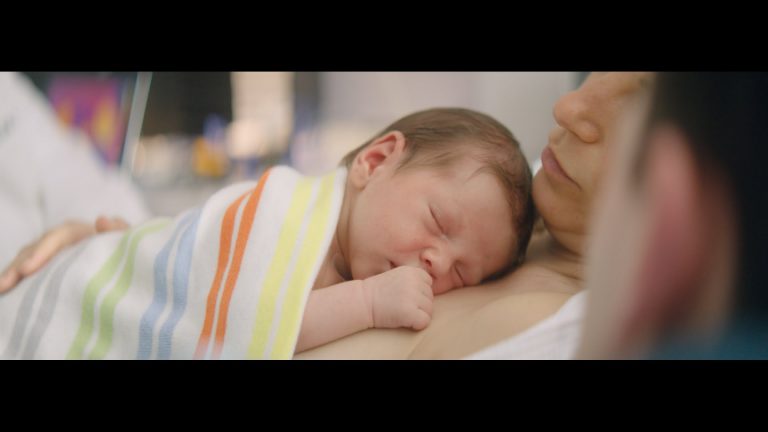 WATCH: This Captivating Video Will Leave You in No Doubt That You and Your Baby Share an Incredible Bond 
This incredible video commissioned by WaterWipes (the world's purest baby wipe), illustrates perfectly the incredible bond between a mother and her child as part of their #PureLove campaign. In it renowned 'skin to skin' expert Susan Langdon explains how a mum's body regulates and stabilises her babies biology when held skin to skin. It is truly remarkable and well worth taking a few minutes to watch. But be warned, it may make your eyeballs leak…a lot.
Here's why this WaterWipes video really struck a chord with me, and why I think other mums will be reaching for the tissues after watching it;
When you go back in your mind to the time when your first child was born, how would you describe the way you felt?
For me, it was such a rush of different emotions. I was completely in awe of the fact that my husband and I had made this tiny, perfect little human and I swelled with pride as my husband cut laps of the hospital corridors in the hope that he'd be able to show off our son to anybody that happened to look at him sideways.
"Look what we made! Aren't we clever?"
(He didn't actually say that of course, but I know him, and that's exactly what he was thinking!)
I fell in love twice that day. Firstly, with my beautiful baby boy and secondly with a man that up until that day I hadn't met before. Seeing my husband transform before my eyes into a doting father, for me, was one of the highlights of our sixteen-year relationship.
But in those first few days there were other emotions too. Seriously…tired? I was convinced I had never truly understood the concept of 'tiredness' before. No wonder it was used as a form of torture. I couldn't wait to get out of the hospital and home to my own bed, with my husband with our new baby.
As we were strapping our son into his brand-spanking new, rear-facing car seat that we had researched and expertly picked out a few months prior, it suddenly dawned on me…
Wait…what? They are letting us take him home? Do they know that we have no idea what we are doing? Surely someone is going to stop us and say there has been some kind of mistake!
Like most pregnant women I had spent the past eight months devouring every pregnancy and baby related book I could get my hands on and by the time my due date approached I was convinced that we were going to breeze through this parenting gig.
But standing in that car park watching my husband carefully strap our tiny little boy into his car seat I was struck by the weight of responsibility we now had. You would have thought that after three months of morning sickness, four months of hellish heartburn and two months of wondering what my feet looked like I wouldn't be standing outside the hospital dumbstruck thinking "OMG! WE'VE GOT A BABY!"
The dip in confidence that I felt in those early days it seems is not uncommon. New research shows that a dip in confidence is felt most keenly by one in five (21%) of new mums in the first 3-6 days after their baby is born. For 15% of mums this feeling comes after the first week with a further 14% experiencing this after two weeks. So whilst many of us never talk about it, there is a good chance many of you can identify with this feeling at some point.
It didn't take me long to realise that I needed to stop getting hung up on what the experts told me my baby and I should be doing. In fact, I pretty much broke all the rules.
"Oh no, he should be feeding every four hours. He's just using you as a dummy," a well-meaning family member would tell me. "You'll never get anything done around the house if he is feeding all the time."
But once I'd let go of all the conflicting advice and trusted in my own maternal instincts my confidence in my ability to mother grew. When he was unsettled I would lie in a warm bath with him, snuggled together skin-to-skin or hold him to my chest to feed – and like magic, he'd be calm and happy. It was like having some secret super power that nobody else knew about.
But as it turns out, I'm not the only one with this superpower as this amazing new film that WaterWipes  commissioned for its #PureLove campaign illustrates. It turns out that something really incredible happens between a mother and child when they are in skin-to-skin contact.
If you haven't already, I strongly suggest you scroll back up and watch the video now, so you can see exactly what I mean. Go on…I'll wait here.
The film captures an experiment by world renowned 'skin-to-skin' expert Dr Susan Ludington that shows the science behind skin-to-skin contact and the natural power a mum has to care for her baby.  Using heart-rate, oxygen and breathing monitors as well as infra-red technology to capture body temperature, three new mums allowed Dr Ludington to monitor their days old babies as they held them in the swaddled position and then by holding them skin-to-skin on their chest.  All three mums witnessed how this skin to skin regulated their baby's breathing, heart rate, oxygen levels and temperature within five minutes of being held in this position.
Our body, and our baby's body actually synchronise and regulate each other's biology when skin-to-skin. Isn't that incredible?
Andrea Hawes from WaterWipes says 'This film reveals the biology of skin-to-skin contact, the ability of mums to soothe their new baby, and highlights why mums shouldn't let anything come between them and their baby. We have launched the #PureLove campaign to support new mums, inspire confidence and demonstrate that all a baby needs is you.'
And isn't that exactly the kind of message that every new mums needs to hear? I certainly wish someone had told me. Thank you WaterWipes!
You can share your reaction to the film and your personal experiences of using skin to skin in the first few weeks of your baby's life on social media , using the hashtag #PureLove, or share this incredible video with other new and expectant mums so that they too will know that they really are enough.
WaterWipes
Containing only two ingredients, 99.9% purified water and 0.1% grapefruit seed extract, WaterWipes has won numerous high profile and prestigious parenting and product awards and the global demand for WaterWipes is growing rapidly since they have entered the US, Australian and New Zealand markets. WaterWipes is available from supermarkets, pharmacies and online.