Are you Fashion Fit?
Long gone are the days of the 80's where exercise wear consisted of leotards and g-string bodysuits with leg warmers and we did aerobics to the sounds of "lets get physical". How the fitness scene has changed and so have the fashions – (Thank goodness)
With fitness and health becoming the must-have part of your life, we not only want to feel comfortable but also want to look stylish while being practical! We now have a tremendous choice in fitness clothing, which comes in array of colours, styles and prices.
Sportscraft have just released a stylish yet practical range of leisure/sports wears as shown below. Where fashionable prints are used in flattering panels on the jackets and pants adding flair and interest.
Of course Lorna Jane have a large range of items to suit all occasions. The prints on the tops add some humour to your workout. I particularly like the orange tank with the empire waist-line as it has a drawstring hem that stops the top from riding up when you are working out which is an added bonus! It also allows for more room around your middle being a less fitted style then most tops.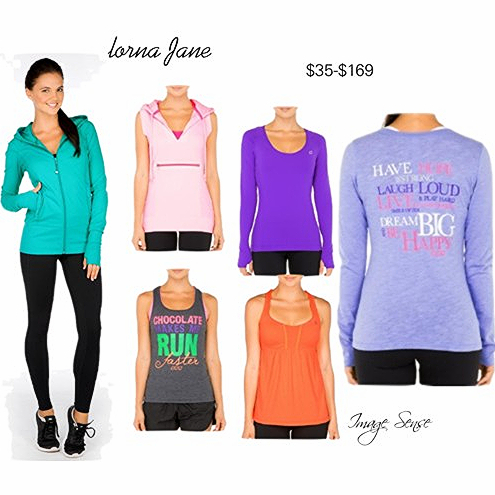 The great thing about Targets range of exercise wear is its low cost, meaning that all of us really don't have any excuse not to put on some sportswear to "get physical" anymore! They have some great harem crop pants that are relaxed for yoga and they also cater for fuller figures too.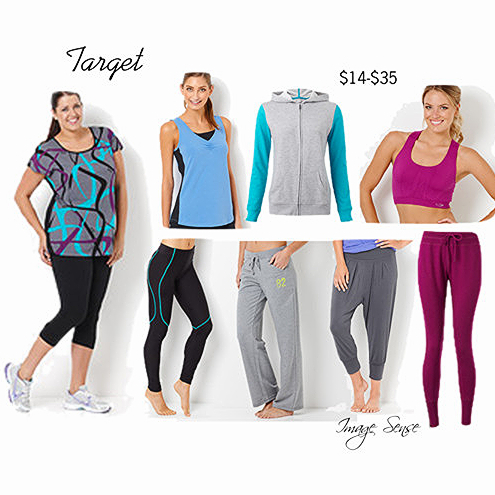 Then there is the Shapewear exercise-wear that gives you confidence to step out in the gym in the first place. This collection from Reebok features strategically placed shape n' hug panels that help smooth and shape key areas such as the troublesome tummy that we often end-up with after having children!
Stylefirm- http://stylefirmclothing.com/ from LA with their competitor tights claim to flatten your tummy, lift your rear, reduce your hips and slim your thighs with their strategically placed stitching and compression mesh before you even begin your workout!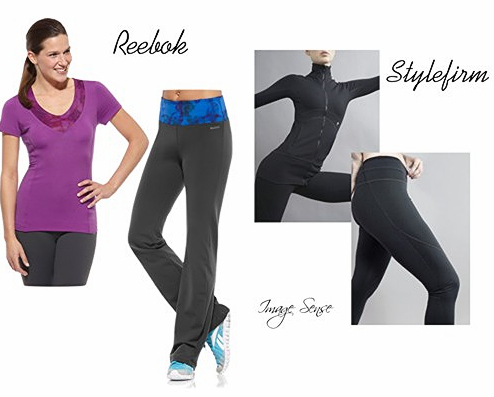 So why not give your workout a confidence boost by first flattering your figure with great colours and styles before you even get up a sweat!
Give Mum or treat yourself with the Ultimate gift of Confidence and Style with an Image Sense Gift Voucher and Receive 10% off any Colour, Style, Wardrobe or shopping Consultation!
Joanne McEwen is an Image, Style & Colour Consultant at Image Sense based in Geelong, Victoria. She draws her wealth of knowledge from having worked in the fashion industry for over 25 years. Working as a designer and patternmaker gave her insight into the challenges that 'off the rack' clothing brings too many of us.
Using her Image, style and Colour training partnered with her experience, gives Joanne the edge in offering expert advice in Image and Style as well as analysing Personal Colours, Wardrobe editing, & personal shopping for her clients. Her clients often consist of mums just like you who need to know
'how I do I dress for my figure now?'
Joanne enjoys working closely with her clientele to achieve their desired results while expressing their personality through their image, & flattering their natural shape, with the designs & colours that suit them individually.
She takes her natural flair & artistic eye for colour & design combining it with her attention to detail to offer a service that empowers people to look their best, feel their best and to be their best.
Receive my FREE 'A-Z of fabulous style tips,' when you sign-up for my monthly e-zine full of insider style tips and specials. Read my Image Sense Style blog for more articles on dressing for your body shape, personality & lifestyle.
You can connect with Joanne on Facebook, Twitter, Linkedin, Google+ and Youtube