Back to Work Outfits for Mums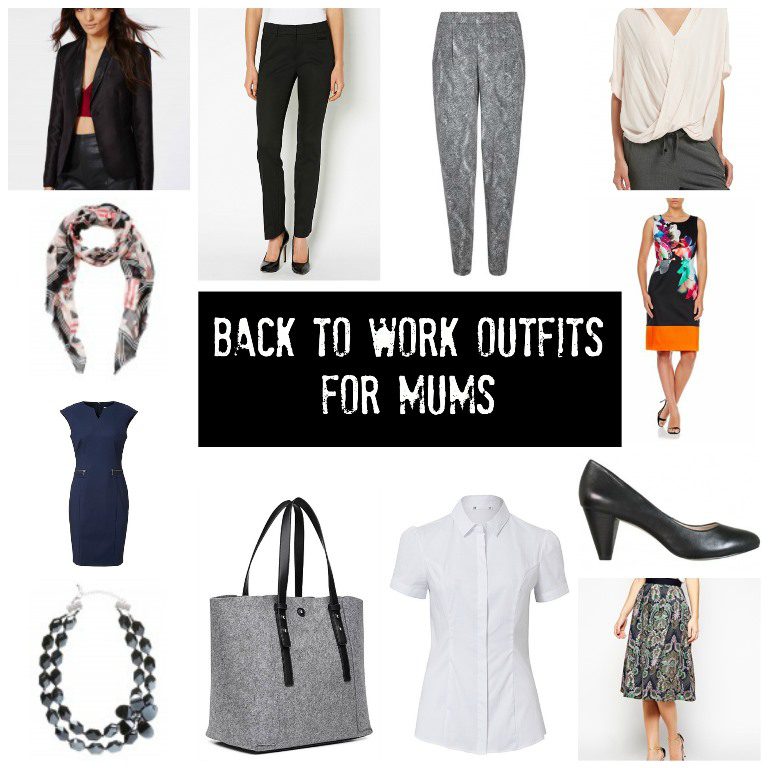 If you are heading back to work after taking time off to have children, you may be looking at your wardrobe wondering what to wear? Maybe your work clothes no longer fit or need to be updated.
This collage of back to work outfits for mums uses pieces that can create a capsule work wardrobe. Each piece can be purchased online or in store and are easy on the budget.
The foundation of every capsule wardrobe requires the basics of a blazer, work pants, skirt, dress, shirts and accessories in the form of a statement necklace, scarf and tote bag. Black closed in toe heels are a basic shoe which for the purpose of this post, go with each outfit. The choice is yours on what type of shoe you prefer, but try to choose leather and a smaller heel if you know you're going to be on your feet all day.
The first outfit inspiration using the capsule wardrobe above is the Jacquard Skirt, Sussan Top and Blazer outfit. The skirt makes this outfit shine and it can be worn to an evening event as it's metallic texture can be dressed up. A statement necklace is all that is needed to complete the outfit.
The second outfit inspiration is grey snake print pants with a white shirt, blazer and scarf. The scarf can be worn anyway you like. For a feminine look tie it into a bow or if you prefer an open neck. allow the scarf to drape down and add knots at each scarf end to hold the scarf down so it won't blow in your face when walking to the office.
The third outfit inspiration is a simple sheath dress accessorized with a statement necklace. A blazer can be added to this outfit if required.
The fourth outfit inspiration is a floral graphic print dress. Don't be afraid to wear colour or patterns to work. To make this dress look more corporate, add the blazer. No statement jewellery or scarf is needed for this outfit because the print does all the talking.
The fifth outfit inspiration is the Jacquard skirt again, but teaming it with a white shirt, scarf and blazer. In this outfit you're mixing your prints, but it works because of the common colours in the scarf and skirt.
There is one week's worth of work outfits to inspire you on how to organize your work wear wardrobe. The only limitation is your mind when it comes to mixing and matching the items from this capsule work wardrobe.
What is your favourite piece from this capsule wardrobe? What do you wear to work?