Is This The Newest Trendy Superfood? Bodybuilders Buy Breast Milk to Bulk Up!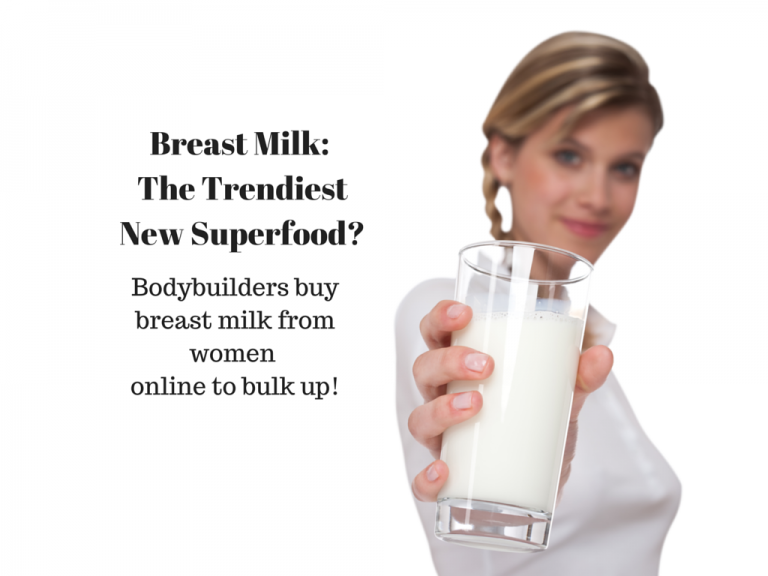 The chances are if you are a parent, or an expectant mother you will have heard a well-meaning relative or midwife tell you 'breast is best' at least once, right?
Well, it seems like babies are not the only ones thought to benefit from a mother's milk. Some bodybuilders are looking to bulk up muscle with the aid of breast milk bought anonymously from lactating mothers – believing it to be a more superior and natural alternative to other quick-fix supplements such as steroids or diet pills.
Surprisingly, bodybuilders consuming breast milk in order to gain muscle is not a new trend – Arnold Swarzeneggar was rumoured to drink breast milk way back during his years as a professional bodybuilder!
In a thread titled Breast Milk = Greatest Supplement ever one user of the popular Bodybuilding.com forum explains:
I always drank breast milk, I like it, but I never fully realized its potential as a supplement until I started using it as the cornerstone of my diet and started growing beyond measure. I made the greatest gains of my life on breast milk, an unrivaled 35 pounds in ten months. If you were to ask me now what I thought was the supplement that gives you the best value, I'd say breast milk…
While it is true that finding a woman to openly offer her lactating is difficult, it's not nearly as impossible as many would have you believe. Aaron Baker, long time lifter and long time supporter of breast milk, has taken every opportunity of his girlfriend's five pregnancies to absorb as much human growth hormone as possible. Vince Taylor goes the alternative route and has been able to find women who are accept monies for what he needs. Ed Corney, though past his prime, still finds himself in the weight game. His daughter has been more than generous during her pregnancies to accommodate Ed with his nutritional needs. The simple fact is that breast milk is not that hard to come by….
And it seems there are women who are willing and able to make money by selling their breast milk – and it isn't cheap either.
In an article in Yahoo News last December 26 year old mother of four Rebecca Hudson, tells how she sold her breast milk for $28 per 5-ounce bottle in order to fund the buying of her children's Christmas presents. Her eight regular clients included chefs using her milk as an ingredient and bodybuilders looking for extra protein.
News.com.au has also run a similar story today including the comments of a mother in America who was approached in the supermarket and asked if she would consider selling her breast milk.
"A gentleman walked up and asked if I was breastfeeding my daughter," a woman known only as Rebecca told the KOMO News Network.
"He lingered for a minute and you could tell he was a little nervous to ask, and then he asked if I would be interested in selling him my breast milk.
"I just sort of looked at him strangely and said 'I don't think so, but if you need breast milk they have milk banks for that — to make sure babies get milk' and he said 'Oh, no it's for me. I'm doing bodybuilding and CrossFit.'" 
Despite the commonly held belief that human breast milk is packed with the human growth hormone (HGH) amongst bodybuilder, experts suggest that it would have little nutritional value for grown men.
Dr Lana Gagin a paediatrician at Helen De Vos Children's Hospital told the Detroit Free Press "There is nothing in breast milk that can be of benefit to a healthy adult or there is nothing in breastmilk that would enhance your physical performance."
Furthermore, Dr Lana Gagin joins other medical experts in discouraging anyone from purchasing breast milk from unknown sources.
"The way this milk is stored and processed isn't always safe."
Referring to a study published in the Journal of Pediatrics in which 101 samples of human breast milk were bought anonymously online and tested "They found that most samples were contaminated with bacteria, staphylococcus, and there were a few samples contaminated with salmonella even."
Maybe it's not quite the liquid gold they think it to be…at least not for adults!
You may also like:
London Ice Cream Parlour Sells Breastmilk ice-cream
Breastfeeding in Public: Everyone Knows Mothers Are Exhibitionists!
Ask the breastfeeding educator: Breastfeeding Help!
Boob jobs: The A-DD of Breast Augmentation