3 Ingredient Chocolate Caramel Easter Cups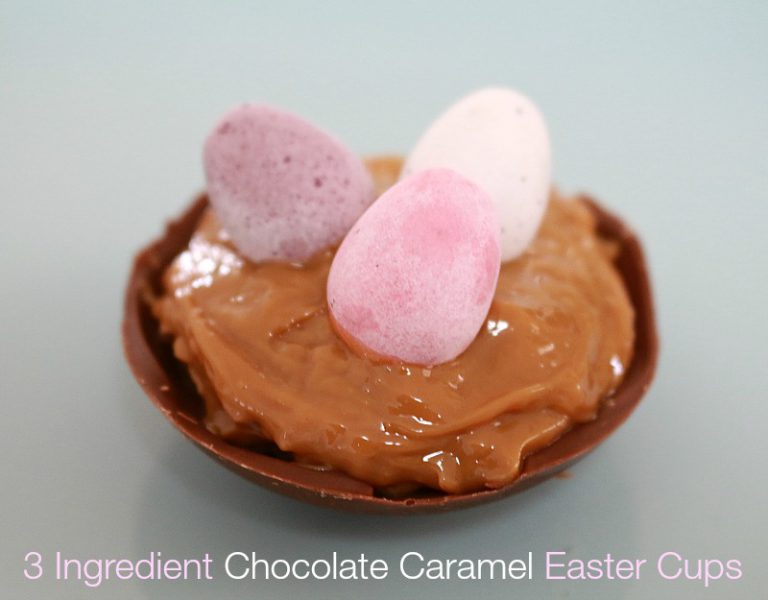 3 Ingredient Chocolate Caramel Easter Cups
Easter would have to be my favourite time of the year… hands-down. There's less stress than at Christmas AND you can eat chocolate for breakfast without anyone looking at you strangely. I say that on it's own is a reason to celebrate!
If you love chocolate, then you're going to adore these delicious little easter cups. If you are a fan of caramel, then you should just start making them now. And if you're someone who likes recipes that are quick and easy, then this is for you!!!
These 3 Ingredient Chocolate Caramel Easter Cups are made using melted chocolate, pre-made caramel and of course, a couple of delicious little Easter eggs on top (a little bit for effect, but mainly for total and utter yumminess). Now you can either buy a tin of Nestle Top N' Fill Caramel OR you can be super clever and make your own using only a can of condensed milk. Yep you heard that right! You can make your own caramel just out of a tin of condensed milk. Ummm… awesome! If you'd like to have a go at making your own caramel, check out our step-by-step video and guide here.
Anyway, to make these little cups you will need a small patty pan sized baking tray. Spray the shallow holes with cooking spray to prevent the chocolate from sticking. It's important to spray the holes really well so that you can get your chocolate cups out! Melt the chocolate in the microwave on medium temperature, stirring every 30 seconds with a metal spoon until melted. Then it's simply a matter of spreading a small amount of melted chocolate into each of the patty pan holes and placing the tray into the fridge. Allow the chocolate to set completely.
Place a chopping board on your bench. Firmly (but gently) 'whack!' the tray onto the chopping board allowing the chocolate cups to release. Spoon 1 tbs of caramel filling into each chocolate cup. Top with 2-3 mini eggs (or a mini bunny) for a too-cute Easter dessert. This is one dessert that is sure to impress your family and friends this Easter – and yet it's so simple (but shhhh… no one needs to know that!).
3 Ingredient Chocolate Caramel Easter Cups
Ingredients
200g melted milk chocolate
1 X 375g can Nestle Caramel Top N' Fill (or make your own caramel using condensed milk)
1 X bag mini Easter eggs
Instructions
Spray a 12 hole shallow patty pan tin with cooking spray.
Melt the chocolate on medium temperature in the microwave for approximately 3 minutes, stirring every 30 seconds with a metal spoon until melted.
Use a teaspoon to cover the inside of each patty pan hole with chocolate (you want the chocolate to be fairly thick so that it doesn't crack when it sets).
Place the tray into the fridge to set completely.
Place a tablespoon of caramel sauce into the centre of each cup and spread out evenly.
Place 2-3 mini Easter eggs on top.
Serve immediately or store in an airtight container in the fridge until needed.
https://mumslounge.com.au/lifestyle/food/3-ingredient-chocolate-caramel-easter-cups/
Love this sweet little dessert? Pin It for later!