Tips For Creating a Spring Racing Outfit That Doesn't Cost a Fortune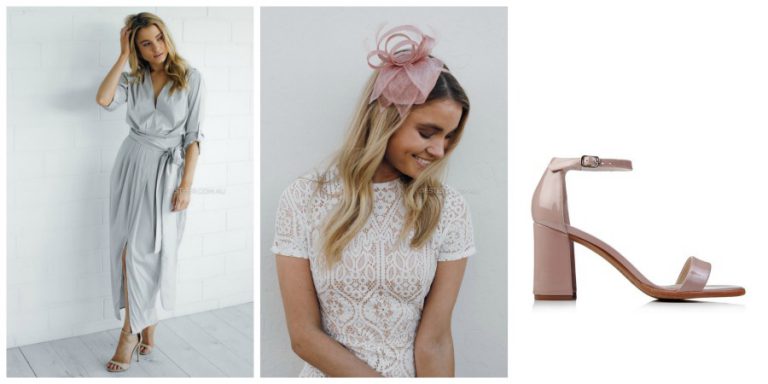 Coordinating an outfit for Spring Racing Carnival can put a dent in your wallet. Once you purchase your tickets to the said event, you need to sort out an outfit which includes a dress, fascinator/hat, clutch, shoes and other accessories to suit your look. You may also decide to get your make-up and hair done if you're attending a classy do.
It all adds up once you put the pieces together.
If you have the dollars to spend up on your outfit, then go all out, but if you're a mum on a budget who can't justify spending too much, here are some tips to ensure your spring racing outfit doesn't cost you a fortune.
1. Norma PU Leaves Crown, 2. New York Lace Dress in Ivory, 3. Burlington Lilac Clutch, 4. Classic Dress Lilac Sandals
Budget Tips
1. Shop in your wardrobe. What dresses do you have that could work for the racing event you're attending? Do you have a little black dress or a floral floaty number that can be dressed up? Before you head to a shop, check that you don't already have a dress that can be worn and reworked for the day.
2. Borrow from friends. Have a dress but don't have a matching clutch? Ask friends if they can loan one to you.
3. Head to your local op shop for a vintage find. If you're after some accessories that are unique or a hat that can be decorated, don't snub your nose at second-hand. You might find a gem that will ensure you have a unique look that no one else can copy.
4. If you're keen to spend some dollars on a new dress and accessories, head online to find amazing pieces that can work together. Esther boutique has some gorgeous dresses and fascinators in for under $100.
1. Gesa Fascinator in Blush, 2. Sagelle Long Sleeve Silver Maxi Dress, 3. Regina Clutch in Blush, 4. Classic Sandals in Blush
Fashion Tips
1. Remember you will be on your feet most of the day and walking on turf. Choose a block heel or wedge so you don't sink into the lawn.
2. Don't forget a cover-up or choose a dress with sleeves to keep those shoulders covered and out of the sun.
1. Rose Crown in Gold, 2. Sara dress in Navy, 3. I LOVE BILLY Beige Gold Clutch, 4. Umberto Ankle Strap Sandals
3. A clutch with a shoulder strap will help keep your hands free so you can eat, drink and hold your winning tickets.
4. Make sure your hair style will suit the fascinator/hat that you've chosen for the day.
5. Less is more when it comes to accessories.
Are you planning on attending a racing event this spring? Got any fashion tips for Spring Racing Season?
Disclaimer: There are affiliate links on this post. Should you choose to purchase an item, we will receive a small commission at no extra cost to you.