What Not To Wear: To A Wedding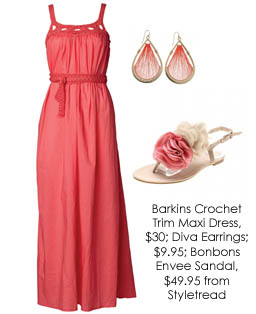 It's wedding season. The time of year when your fridge is adorned with frilly invitations containing cutesy poems asking for wads of cash.  There are many dilemmas when it comes to wedding etiquette (Can I bring the kids? What is the 'right' amount for the wishing well? How many wines is too many?), but the most obvious faux pas is in what you wear. Of course, we're all looking at the bride, but trust me, she is looking right back at you and inwardly judging how seriously you are taking her special day. For us mums, finding something appropriate but stylish, not too short/fitted/busty and within budget can be as much of a challenge as deciphering the true meaning of the invite's dress code. A friend was telling me about a wedding she was invited to where the dress code was "casual", and a few guests took that to mean jeans and singlets, with as many tattoos on display as possible. Noice.
An easy way to do "casual" for a wedding is to think what you'd wear to a posh person's bbq. A floating maxi (covers your legs) or tunic-style dress (covers arms and tummy), dressy sandals or a small wedge; or a nice (not noice) sundress in a pretty print are all surefire hits. Surefire misses include gowns, stilettos, or anything your teenage cousins who work at Supre might have sold to you.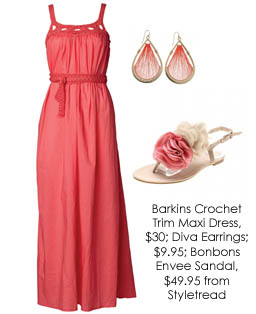 Garden weddings seem to unleash the floral frock in all of us. Appropriate, yes; and when dress shopping look something with thicker straps, floating sleeves or a straight neckline, a nipped in waist and a full or A-line skirt for a universally flattering cut. Simple tonal accessories work well with any kind of print, just keep it minimal. Sparkles are always fun, but can look garish – save them for a dressier cocktail wedding. The brave amongst us can wear heels, but be warned if the ground is even remotely soft, as you'll be aerating the lawn without the groundskeeper's permission and find your 11cm heel fringed in dirt clumps within the first 10 minutes. A higher wedge is almost always the more sensible option.
If the wedding involves a church, be respectful and put away your boobs and bra straps. The same goes for dress length – you might be doing some standing and kneeling and it's never, ever a good look to have to keep pulling your skirt down. Try a light coverup, blazer or a pretty shawl over your outfit which you can easily shrug off when you hit the dancefloor (or your irritating nosy aunt).
A cocktail wedding means you can bust out your favourite party frock and ridiculous heels, but remember that it's not a club, people's older relatives will be there, and knee-length is always more flattering on everybody. People will have goat's cheese on their canapés, they don't wish to see it on anybody's upper thighs. If you're unsure or uncomfortable with the idea of a cocktail dress, take a leaf out of Adele's book – a muted colour, sleeves, discreetly embellished and complemented with a fantastic blowdry. Stunning.
Can I wear pants, I hear you ask? Well, if you're referring to underpants, yes, please do. Trousers are also a chic option for those who aren't fond of a frock – perhaps only Kate Moss can pull of the white pantsuit option, but for the rest of us, well-cut trousers with a silk top and statement necklace or cuff looks refined, and separates are also budget-friendly. Plus, you can't tuck your hemline into your knickers when wearing trousers.
As for colour, find out what hue the bridesmaids will be wearing and DON'T WEAR THE SAME. Same, obviously, goes for white. You don't want to look like a bridesmaid wannabe or be excluded from the conga line because you ruined the bride's carefully thought-out colour scheme. An LBD is always on the cards, but try mixing it up with coloured shoes or a clutch, a scarf, waist belt or bold jewellery. As evidenced at the latest red carpet events, black and emerald green makes a fresh, elegant and striking combination.

Katrina is a shopaholic, who, despite running well-known online boutique Frock You, still finds copious amounts of time to shop for her own and her 5 year-old daughter's overflowing wardrobes. She doesn't understand why some people wear leggings instead of proper pants, and thinks all Mums should shake off the shackles of ¾ pants and Crocs and have confidence in developing their own style!