What to Wear to a Bar-b-que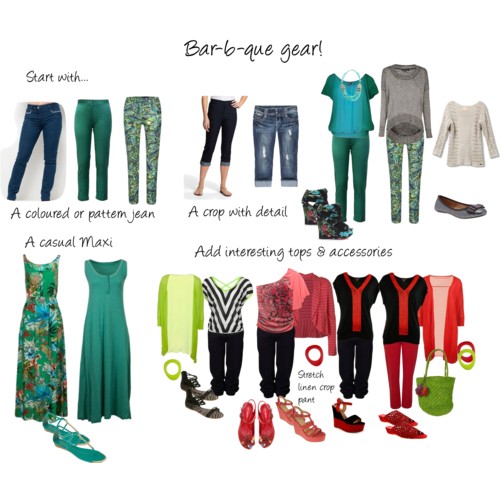 Well here we are approaching the summer season we love, but as soon as daylight saving hits most states of Australia, out comes the bar-b-que for a season of outdoor living. I had my first 'summer' bar-b-que earlier this month, just a casual family atmosphere out on the back deck at a friend's house.
However, I was a little stumped to finding the right kind of outfit to wear due to the weather not being so summery! I did notice that despite there being a gas outdoor heater, by about 9pm most people had donned their warmest sweatshirt, or jacket to keep the cool evening breeze away.
In Victoria we have to be prepared for four seasons in a day, where we can go from 16 degrees one day to 32 degrees the next, hence I thought we could look at what to wear to the bar-b-que and look great, as well as be
well-prepared!

Start with:
A great capri,crop or 7/8 pant or 'ankle biters' as an alternative to a jean.
Get a crop that has a point of difference like the black linen pair that have ruching at the knee.
If you opt for a jean, why not try something patterned like the 'fern' print or a coloured pair to add some flair and personality.
Instead of a plain t-shirt, get a top with some detail, such as a print, or a design feature that adds some interest.
Use accessories such as bangles, watches, necklaces, or shoes to 'change the Look' depending on 'how casual' the event is.
Try a decorative 'slide or sandal' such as the red lattice one in the picture.
Wedges are great as they are more casual, especially espadrilles and they come in fun prints and bold colours, and they don't sink into the grass!
For more shoe tips see my 'Stepping out in Style' post.
A casual maxi dress such as 'Hawaiian' print are very cool to wear on those balmy evenings, pair it with some feature sandals or thongs.
Knit cardigans or jackets are great because they're more casual then a woven jacket to throw on over your tops. Or try something like the metallic knit jumper that adds some evening sheen.
'Note to self' – Get your bar-b-que look sorted out before you get caught out!
Create your sense of style with Joanne
Joanne McEwen is an Image, Style & Colour Consultant at Image Sense based in Geelong, Victoria. She draws her wealth of knowledge from having worked in the fashion industry for over 25 years. Working as a designer and patternmaker gave her insight into the challenges that 'off the rack' clothing brings too many of us.
Using her Image, style and Colour training partnered with her experience, gives Joanne the edge in offering expert advice in Image and Style as well as analysing Personal Colours, Wardrobe editing, & personal shopping for her clients. Her clients often consist of mums just like you who need to know
'how I do I dress for my figure now?'
Joanne enjoys working closely with her clientele to achieve their desired results while expressing their personality through their image, & flattering their natural shape, with the designs & colours that suit them individually.
She takes her natural flair & artistic eye for colour & design combining it with her attention to detail to offer a service that empowers people to look their best, feel their best and to be their best.
Receive my FREE 'A-Z of fabulous style tips,' when you sign-up for my monthly e-zine full of insider style tips and specials. Read my Image Sense Style blog for more articles on dressing for your body shape, personality & lifestyle.
You can connect with Joanne on Facebook, Twitter, Linkedin, Google+ and Youtube