Clever Ways To Save Cash This Christmas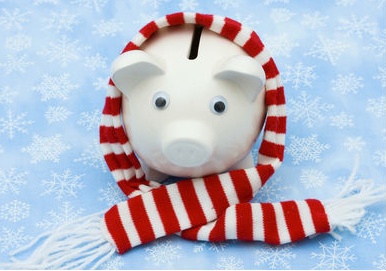 Image source
Christmas is all about spending time with your loved ones, taking a break after a busy year and that dreaded chore of finding the perfect gift for everyone on your list. This time of year can put a big drain on your finances, especially if you leave everything till the last minute and give the credit card a real workout. You dread checking the mailbox in January as you know that big bill is on its way. With some careful planning NOW you can avoid that scary credit card statement, and when Christmas Day arrives you will be relaxed and organised.
1. MAKE A PLAN – Get a small notebook and start creating lists of everything you need. Include a list of everyone you need to buy a gift for, food you need to provide, stocking up the bar etc. Carry this notebook in your handbag at all times, you can update it at anytime, and not accidentally buy two gifts for the same person, or forget to buy batteries for the kids toys if you keep checking those lists.
2. USE A DEBIT CARD NOT A CREDIT CARD – A debit card takes money straight from your account, you can only spend what you have available. You can keep track of your expenditure with a weekly check via online banking. Set a weekly allowance for Christmas shopping and stick to it. Your credit card might feel a bit left out, but that is a good thing. Leave your credit card at home if you can't resist the temptation to use it.
3. SHOP ONLINE – Find the gifts you need online and have them delivered to your home. This will save you time and money as you will not be tempted by all the beautiful impulse buys on display in stores, designed specifically to grab your cash.
4. KRIS KRINGLE – This is the perfect solution to overspending at Christmas especially if you have a large family. Everyone has to buy just one gift for another. Instead of buying lots of smaller or cheaper gifts to cover everyone, a decent value can be placed on the purchase and everyone involved will receive a one quality worthwhile gift.
5. JOINT PRESENTS – Teaming up with other family members or friends can be very helpful if you have lots of gifts to buy.
6. BUY IN BULK – A carton of wine is much better value than buying single bottles. One carton is 12 gifts crossed off your list, or if you don't need that many use the spares for the Christmas parties you will be attending.
7. STOCK UP FOOD SUPPLIES – Every week from now until Christmas, add some long life products you will need to your weekly shopping trip. Put them away in a safe place so that they don't get used up beforehand. This will dramatically cut down that big shopping trip just before Christmas when the crowds are huge and the shelves are empty. Flip through the weekly supermarket catalogues and when your favourites are on special add them to your trolley.
8. CRAFTY AND CREATIVE – If you love making things or have a talent for craft, start making gifts now. A heartfelt personal creation is often greatly appreciated.
Make this Christmas relaxed and enjoyable without all the last minute panic. You will also breathe a sigh of relief when you don't have to face that horrible credit card bill in the New Year. To make next year even better, consider opening a special bank account in January and have some money transferred in there every week directly from your pay. You won't miss a small deduction, but by late next year you will have a nice little balance to use for Christmas joy.
Nikki Morgan is a Natural Therapist, Author and Blogger at Wonderfully Women from Brisbane Australia, where she lives with two gorgeous teens and Miss Tiger the fluffy feline.