A Pain in the…Back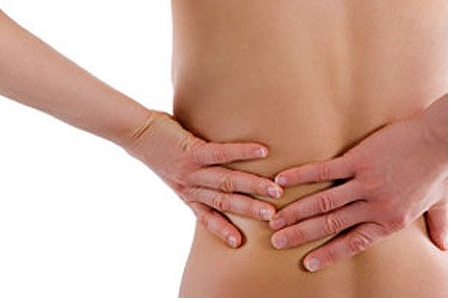 How to exercise around back pain
Did you know that about 80% of people have back ache some of the time? That's a lot of people with a good excuse not to exercise, but it doesn't need to be that way.
Mums' spines have it tough. Not only do they have to support a growing baby in the uterus for 9 months, they get bent out of shape breastfeeding, rocking baby to sleep, getting baby in and out of the car, in and out of the cot, in and out of the pram…. You get the idea. This all leads to poor posture, which is a major cause of back pain.
Ouch! It hurts, what can I do?
To relieve pain in the short term, try gentle stretching, applying a heat pack to the sore area, regular deep tissue massage and using a foam roller or tennis ball for self massage.
How can I stop my back from hurting again?
Avoiding back pain is about balancing strength work and stretching. You need to stretch out your chest, hips and the back of your neck, while strengthening all of the muscles along your spine. This includes your deep muscles, so get into those pelvic floor exercises you were told to do months ago.
A couple of exercises to care for your spine
A simple tip I give clients is to stretch their chest every time they put their baby to bed. As you leave their room, put your forearms on the doorframe, fingers pointing towards the ceiling. Now move your chest forward, as if you're still walking through the door but your arms are left behind. You should feel a stretch at the front of your shoulders.
Another great tip is to stretch your neck when you shower. The hot water helps to relax the muscles as you lean your ear to your shoulder, then the other ear to your other shoulder, then finish with your chin tucked into your chest. Position yourself so that the hot water is running onto the part of your neck that hurts the most.
Train well,
Gretchen
Gretchen Masters loves helping everyone to get fitter, healthier and happier. With the solid foundations of an exercise science degree and over 10 years experience in the fitness industry, Gretchen knows how to help you to get the most out of your training.
Gretchen's biggest project these days is Spring – a national campaign delivered online to fight depression. Held each September, members follow daily fitness plans, eat good mood food and access meditation podcasts. They track their mood and watch it soar. All of the profits from Spring are donated to mental health charities.
Gretchen also delivers corporate wellness programs and writes regular columns for Inform magazine. When she's not busy boosting health and vitality all over Australia, you'll find Gretchen planning her next trip to France. Each July, Gretchen shares her passion and guides groups from the French Alps to Paris, following the Tour de France.
For more information
W www.springfitness.com.au
P 1300 65 25 66