It's Just All in Your Head – Banishing Negative Thoughts About Exercise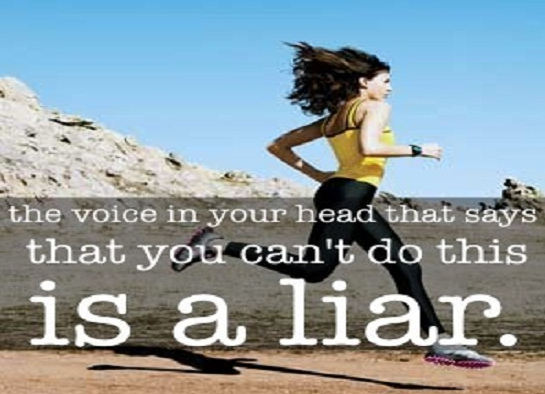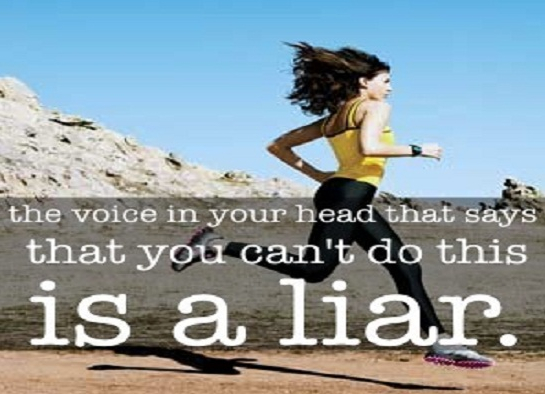 It's just all in your head
I know many people struggle with coming to terms with the mental side of dealing with exercise, getting fit, eating healthy, in other words, the negative voice in their head.
Even the most positive, well-adjusted person in the world still falls victim to his or her own negative thoughts now and again. Imagine what Ironmen must think when they are competing? What about those crazy people that climb mountains like Everest. Or even for some of us running 10km, a half marathon or a marathon is a MASSIVE challenge, both physically, but also mentally.
Just stop what you are doing for a minute and listen to the voices in your head. Mine is saying 'stop checking Facebook and get back to work,' 'shouldn't you clean the house, you are child free today', but then you can also have the voices saying things like 'You are so unfit, you are so hopeless, you have no friends, you are so overweight, how come you aren't strong enough to not eat that chocolate, I can't run around the oval without stopping,' etc etc.
Most of us have at least one or two on a constant loop, repeating the same negative drivel day in and day out – stress, low self esteem, fear of taking risks, fear in general! Well, it's just a voice! It's not a real person, they don't exist. YOU have the power to override this voice in YOUR head. I know they can be powerful and sound like the voice of reason – but YOU, the real person are stronger!
Imagine your head split in 2 – the good, positive, helpful, friendly, supportive voice on one side and the bad, negative voice on the other side. What you need to do is override that negative voice and let the positive voice take over your head, to make the negative space smaller and smaller.
There are a number of things you can do:
Put your hand out in front of you, with your palm facing up. Visualise putting all your negative thoughts into the palm of your hand. All of them. Everything that negative voice tries to tell you. Once every negative thought is in there, roll it all around in a ball (you can use your other hand). Drop it on the ground and jump on it. Squash it. Jump on it hard.

Write down all the negative things that come into your head in any one day. Write them down 1 side of a page.

Next to those negative thoughts, I want you to write a come back to that negative (but of course it needs to be a positive!)
| | |
| --- | --- |
| Negative Thought | Positive Come Back |
| I am not a runner, I can't run | I have run before, I am a good runner. I just need to put 1 foot in front of the other and go for it |
| I'm not fit enough, everyone is fitter than me | So what. You are fitter than other people. Use those fitter people as motivation to be as fit as them. Set that as a goal for yourself |
| I can't believe you think you can run, you are such a slow runner, all those people are in front of you, you may as well give up now. | Who cares. You don't need to be a fast runner. Are you giving it a go? Well as long as you are, that's the main thing. Once you get the hang of running, you can work on getting faster. Think how great you will feel when you finish your run! |
| My body will hurt after I exercise | This is the best feeling in the world. It means you have worked hard. It means you are getting results. You are challenging your body. You are getting fitter, you are getting stronger. |
| I am too overweight to exercise | It's time to do something about it and give exercise and healthy eating a go. You don't want to be overweight anymore, you want to be fit and healthy. |
| I'm not worth it, why am I even bothering trying to get fit or get healthy | You are worth it. You want to be fit, you want to be healthy |
| Go on, eat that chocolate bar (or other bad food of choice) | Stop. Don't do it. Stop and think about why you want it? Is it habit? Go and do something else, take your mind off it. Have a healthy snack instead. Think about how you will feel if you do eat that chocolate bar? How did you feel last time you ate it? If you have a genuine craving, you will stop at 1-2 squares, enjoy it and move on and it is your treat for the week, go for it, enjoy it. But if you are doing it for emotional reasons, that negative voice is just telling you to eat everything, then step away. If you are doing it out of habit, find a new healthy habit. |
Write a list of all the positive things in your life. Write down all the things you are good at. This list will help you to combat those negative thoughts, if you find them creeping in at any time.

Once you hear any of those negative voices or negative thoughts, replace them with your list of positives, be strong and let those positive thoughts/voices take over.
Once you have listened to all these negative thoughts, written them down, what can also be helpful is digging a little deeper – start peeling back the layers of where these thoughts come from. What is beneath the drivel? Could it have come from a bad childhood experience, bullying, failing last time, most of the time it comes down to a FEAR. But other times it's not so clear. All of your past experiences and mistakes just get rolled into a great big list of limiting beliefs—preconceived notions that keep you from moving forward in life. The beliefs are so strongly held that you actually treat them as facts. And these are the food for those nasty voices!
So take 4-5 of the positive comebacks from your list that you have created, or if you want to write down some new ones , like:
I am strong enough to face this challenge

I can reach my goals

I am getting fitter, I am getting stronger

I can overcome any obstacle that is put in front of me

Or even something simple like – I can. Or I will.
Whenever you notice a negative voice, push it out with your positive comeback. At first this may take conscious effort, but in time, it will become second nature.
It does take practice. But you can do it! It's time to change your thinking, it's time to change your life, it's time to get moving, it's time to challenge yourself, it's time to be positive, it's time to give it 110%. YOU CAN DO IT!
"Do something today, that your future self will thank you for."
Amanda is a mum to 18 month old Chelsea, a Personal Trainer and owns her own Women's Only Outdoor Fitness Business, Blue Sky Health & Fitness, based in Melbourne. Blue Sky Fitness offers Women of all ages, sizes and abilities a supportive & friendly environment in which to get fit, get healthy & be happy (but it's also challenging!) Amanda has recently launched a Healthy Lifestyle eBook Series to help women all over the country lose weight, tone up & feel great about themselves. For more information on Blue Sky Health & Fitness, please visit www.blueskyfitness.com.au