Pilates: A Great Core Workout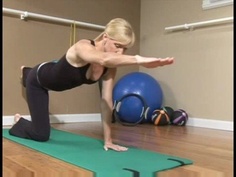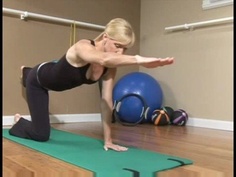 Pilates is a mind-body exercise that focuses on strength, core stability, flexibility, muscle control, posture and breathing.
Pilates can be very challenging, even though it is mostly done on the floor. It is suitable for everyone, from elite athletes through to more mature exercisers.
When you do a Pilates exercise, you stabilise the core by pulling your navel back towards your spine, while simultaneously using your arms and legs in a particular movement.
With regular classes you can reduce a dress size. Maybe that's why it's so popular in Hollywood!
Doing Pilates has a lot of other benefits as well, including:
• Leaner Muscles: Pilates exercises accentuate the length of the limbs and change bulky muscles into longer and leaner ones.
• Good Posture: Better posture is something Pilates can pretty much guarantee.
• Flat Tummy: The best way to get a flatter tummy is to lose a little weight. The second best way is to do Pilates.
• Less Back Pain: Most back pain comes from bad posture or sedentary lifestyle. Pilates strengthens the core muscles and helps protect the back and keep everything in alignment.
• More Flexibility: When you do Pilates, your muscles and joints get stronger which means they become more flexible as well. With regular participation you will be able to move your limbs and joints through a larger range of movement. This also helps with preventing injuries.
• Better Balance: Balance comes from a strong core. As we age it is even more important to have good balance.
• More Strength: Any exercise program will make you stronger, but Pilates will help strengthen your core muscles from day one. This means you will be able to do everyday things a bit easier, or if you're an athlete in training it will help lift you to that next level.
• Change of body shape: Pilates changes your body shape and tone like no other exercise regime.
There are Pilates classes for everyone, so find one today or check out my core workouts at www.leeshealthywomensclub.com to download and do at home.
Leanne is a qualified personal trainer and weight loss consultant. As a devoted mum, she has spent much of her life being a healthy role model for her three now grown up children.
Hundreds of women have benefited from Lee's health and fitness advice, tips and tricks, meal and recipe ideas, and exercise programs. She loves helping women learn how to stay healthy and get the most out of life while being busy mums. Check out her website www.leeshealthywomensclub.com or find her on facebook @leeshealthywomensclub.