Top 5 Exercises to Complete at Home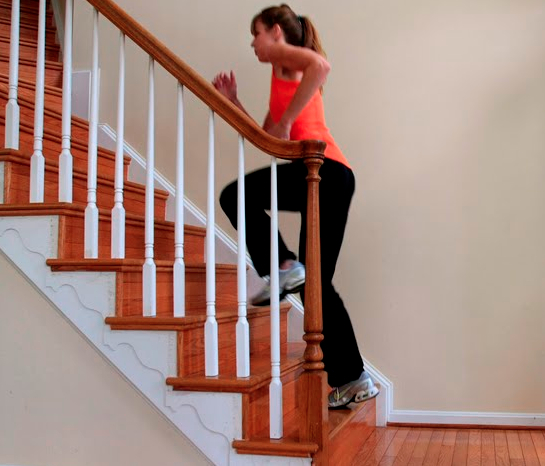 When you've got a little one at home (or more than one little one!) I know time can be precious and getting out to exercise for hours on end each day is pretty much impossible yes?
The good news is that exercise doesn't have to take hours each day…and better still, there are a bunch of exercises you can do without leaving the house!
I'm a strong believer than any exercise is better than no exercise…even 10 minutes of movement is better than sitting on the couch all day doing nothing.
So I've noted down my top 5 exercises that can be completed anywhere, anytime and you can fit into even your busiest of days because they don't take long to work through…
Exercise 1 – star jumps
Yep, good old fashioned star jumps…the kind you did as a kid!
Complete them for 1 minute
Exercise 2 – squats
The best way to do squats is to stand in front of a chair and as you bend at the knees, bring your bum back and down to tap the chair. Then stand back up push your weight through your heels.
Complete x15 squats
Exercise 3 – tricep dips
You can use the same chair as you did for squats to work the back of your arms too. Tricep dips are great for tightening up those 'tuck shop lady arms'!
Complete x15 tricep dips
Exercise 4 – bridge
This one is great for squeezing through your bum! Lie on your back with your feet flat on the ground, then squeeze your bum and lift your hips into the air. Lower your bum up and down, squeezing each time.
Complete x15 times
Exercise 5 – plank
You can complete a plank on your toes or on your knees, just make sure you're not sticking your bum up in the air and keep your core tight by drawing your belly button towards your spine.
Hold your plank for 1 minute or as long as you can
Once you've completed the above once, have a short rest and complete them again two more times so you've done x3 sets in total.
Have fun!
Emily is the owner of and a personal trainer at Bondi Bum, an outdoor group and personal training company in Sydney, NSW.
Emily's number one goal as a trainer is to help clients get outside, move around and reap the benefits of exercises. She is a strong believer that anyone, anywhere can exercise, and more importantly anyone, anywhere can enjoy exercise.
She says: "Exercise doesn't have to be something that people fear or can't do. In its most basic form, exercise is movement and that's what our bodies are made to do…move! By increasing or decreasing the range of movement, the type of movement and the speed of movement, all appropriately to the individual, we can all exercise."
Emily is also the fitness coach for national website, Weigh It Up Australia (www.weighitup.com.au), helping people around the country lose weight, get active and make a difference to their life.You can follow Emily and Bondi Bum updates at www.bondibumfitness.com.au/blog/ or www.facebook.com/bondibum