15 Minute Spanish Rice Recipe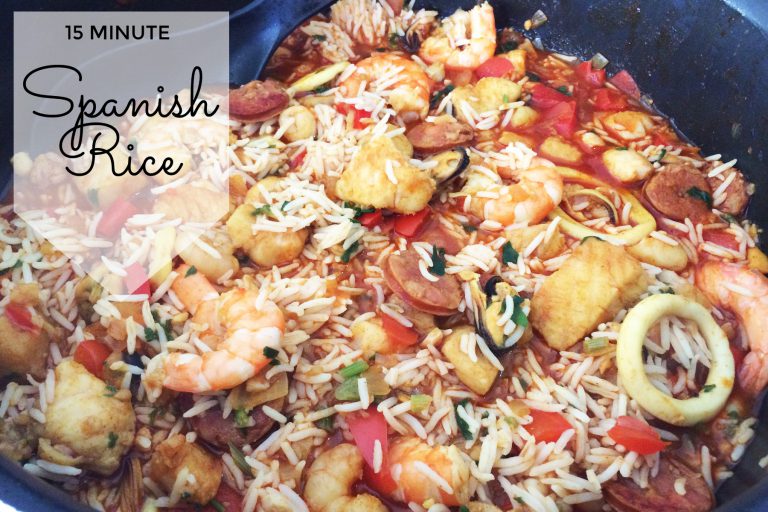 15 Minute Spanish Rice Recipe
Cooking new meals for your family doesn't have to be difficult, as this quick and easy Spanish rice recipe proves!
There are no fancy techniques required, nor any difficult to source or super expensive ingredients list. Everything can be picked up at your local supermarket, and your one-pan meal can be on the table in about fifteen minutes.
Sounds amazing, right? Well, it kinda is!
You'll need some ground turmeric, boiling water, chicken stock cubes, olive oil, a chorizo sausage from the deli, an onion, some garlic, a red capsicum, smoked paprika, two packets of microwaveable quick rice, a tomato and some seafood.
Now, the seafood — this is where you can get creative if you like. I bought 300gms of mixed seafood marinara, half a kilo of cooked prawns with the shells still on, and a couple of white basa fish fillets. You could buy fresh or frozen, from the deli or the co-op, and salmon instead of white fish etc. Just make sure you have enough seafood to feed your people and you're all good.
As for the timing — I'm going to get all Jamie Oliver on you here and tell you to get your things ready before you start! A lot of the prep you can do while things are simmering and sauteing, but try and at least pop the kettle on and peel your prawns before you begin.
Ready? Let's go!
Mix the turmeric and stock cubes with the boiling water in a jug and set aside.
Heat the oil in a frying pan and saute the chorizo, onion and garlic. Add the capsicum and paprika and stir to combine. Add all the seafood, tomato and stock mixture and stir to combine. Bring to the boil and simmer, covered for five minutes.
Then open the rice packets and add them to the pan, breaking up the clumps with a spoon. Pop the lid back on and simmer for another three minutes or until the liquid has absorbed.
Done!
Serve immediately with some fresh parsley and lemon wedges. How easy was that?
I hope you love it as much as we do!
15 Minute Spanish Rice Recipe
Ingredients
½ tsp ground turmeric
1 cup boiling water
2 chicken stock cubes
2 tsp olive oil
1 chorizo sausage, sliced
1 onion, finely chopped
2 cloves garlic, crushed
1 red capsicum, sliced
1 tbsp smoked paprika
2 x 250g packets quick cook rice
1 tomato, finely chopped
300g seafood marinara
2 white fish fillets, cubed
500g cooked prawns, peeled
1 tbsp parsley, finely chopped
Lemon wedges, to serve
Instructions
Combine turmeric, boiling water and crumbled stock cubes in a jug. Heat oil in a large heavy-based frying pan over moderate heat. Add chorizo, onion and garlic and cook, stirring, for 2 minutes or until onion is soft.
Add capsicum and paprika, and cook, stirring for 1 minute. Add tomatoes, marinara mix, fish and prawns, stirring to combine. Add stock mixture and bring to the boil. Reduce heat and simmer, covered, for 5 minutes. Add rice and break up any clumps with a spoon, then simmer, covered, for another 3 minutes or until all the liquid is absorbed. Stand for 1 minute with the lid on.
Sprinkle with fresh parsley and serve immediately with lemon wedges.
https://mumslounge.com.au/lifestyle/food/15-minute-spanish-rice-recipe/