3 Ingredient Coconut Rough Fudge Recipe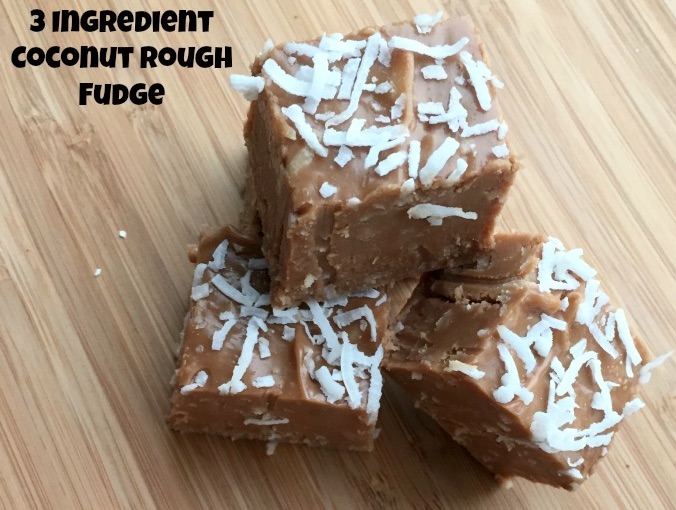 3 Ingredient Coconut Rough Fudge Recipe
Coconut and Chocolate are another one of those magical ingredient combinations that just work so well together, so it only makes sense to combine them in a fudge recipe!
This recipe really should come with a warning label, as it's dangerously easy to make! All you need is three ingredients and the hardest part of putting this fudge together is waiting for it to set in the fridge! Whilst this 3 Ingredient Coconut Rough Fudge is perfect to enjoy any time of the year, it would also make a great easter gift for teachers, friends and family – or you could just keep it all for yourself to enjoy!
3 Ingredient Coconut Rough Fudge Recipe
Ingredients
400g of milk chocolate
395g tin of condensed milk
1 cup of shredded coconut
1/2 cup of extra shredded coconut to decorate
Instructions
Line a large loaf tin with baking paper. Make sure you leave some extra paper hanging over the sides to help you remove the fudge from the tin once it has set.
Roughly cut the milk chocolate into small pieces and place it in a medium saucepan along with the condensed milk.  Cook over a medium heat for 10 - 12 minutes or until the ingredients have combined and started to thicken.
Remove the saucepan from the heat and add 1 cup of shredded coconut. Quickly stir it through using a metal spoon.
Working quickly, pour the fudge into the lined loaf tin and sprinkle over the extra shredded coconut before placing it into the fridge for 6 hours (preferably overnight) to set.
Remove the set fudge from the fridge and cut into small pieces.
https://mumslounge.com.au/lifestyle/food/3-ingredient-coconut-rough-fudge/
** If you are giving this fudge as a gift, simply place a few pieces on a sheet of cellophane and seal with a coloured ribbon or you could place a couple of pieces into a cute easter box.
What is your favourite easy easter recipe?
Do you love fudge too?