9 Things You Never Knew You Could Make In Your Slow Cooker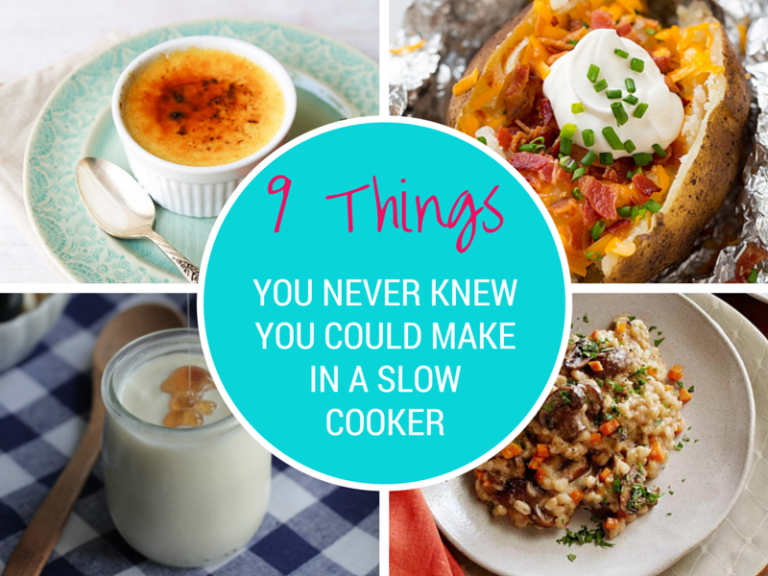 Ahhh winter – the perfect time for rugging up, wearing ugg boots, scarves and beanies… and of course, using your slow cooker! There is seriously nothing better than a nice, hot slow cooker meal on a freezing cold winters night. And while we all know how amazing slow cookers are for soups, casseroles, chillis and stews, there are also a whole lot of completely unexpected things you can make in your slow cooker. Let us open your mind to a brand new world of slow cooking!
Risotto
Gone are the days when making risotto would mean standing over the stove constantly stirring in an endeavour to get that deliciously creamy taste. This version will save you lots of time and effort, while still giving you that amazing taste that we know and love.
Image: Food Network
Creme Brûlée
Creme brûlée can be a little tricky at times – but not when you make it in your slow cooker! The low temperature will cook your creme brûlées perfectly, leaving them completely creamy and delicious.
Image: The Chic Site
Bread
You don't need a bread maker or oven to make your own bread… just your trusty old slow cooker! Make any kind of bread or rolls you like – this Rosemary Olive Oil Bread has us drooling.
Image: Trust The Host
Chocolate Fondue
Nothing says winter comfort food quite like a yummy bowl of decadent chocolate fondant. Pop everything into your slow cooker and leave it to do it's magic. AMAZING!
Image: Food Network
Yoghurt
Save money by making your own homemade yoghurt in your slow cooker. Yep you read that right… you can make your very own yoghurt in the slow cooker!! How cool is that!
Image: Live Simply
Brownies
Our favourite chocolatey dessert can be made in your slow cooker too! They are surprisingly easy – and taste incredible! Add a scoop of ice-cream and a drizzle of salted caramel sauce over top for an extra special treat.
Image: Crockin Girls
Cinnamon Rolls
Everyone's favourite treat can be whipped up and cooked in the slow cooker without any fuss. Simple and tasty – these slow cooker cinnamon rolls are the stuff that dreams are made of.
Image: Creme De La Crumb
Baked Potatoes
Whatever you do this winter, you must, MUST try to bake your potatoes in the slow cooker. Top with with bacon, sour cream, spring onions and cheese for a totally drool-worthy meal.
Image: Cooking Classy
Pavlova
Would you believe that you can make the perfect pavlova in your slow cooker? Well it's 100% true! We love this modern take on a classic fave.
Image: The $120 Dollar Food Challenge
What weird and wonderful things do you like to make in your slow cooker?