Avocado Caprese Chicken Recipe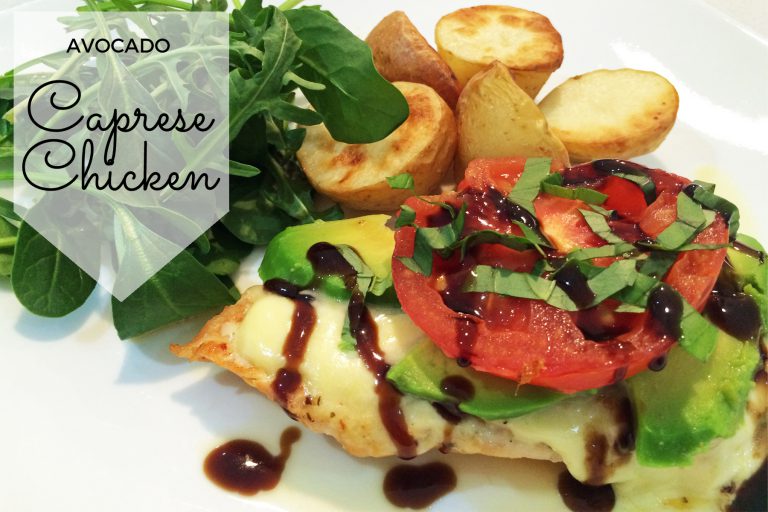 Avocado Caprese Chicken Recipe
Have this amazing avocado caprese chicken meal on the table in just 20 minutes with this easy to make recipe! Perfectly seasoned, juicy chicken breasts topped with melted mozzarella cheese, avocado and thick slices of tomatoes, sprinkled with fresh basil and drizzled with a sweet balsamic glaze. This meal is pure heaven, and super easy to throw together making it a perfect mid-week meal for the whole family.
The caprese combination is sliced fresh mozzarella, tomatoes, and green basil, resembling the colours of the Italian flag. It is usually served as a salad seasoned with salt and drizzled with olive oil.
This avocado caprese chicken recipe is really simple to make, and I'll take you through all the steps. But firstly, the ingredients!
You'll need enough chicken breast fillets to serve your people You need to cut the fillets in half horizontally to make two thinner steaks so one fillet will make two servings. Next, the seasonings – onion powder, garlic powder, Italian herbs, salt and pepper. Plus olive oil to cook the chicken in, avocado and the caprese elements – mozzarella, tomatoes and fresh basil.
Plus, I forgot this all important part of the meal…
Yummy balsamic glaze to drizzle over the top!
Combine your seasonings together in a little bowl and sprinkle over your pieces of chicken. Then cook them for about 5 minutes each side until golden and cooked through.
Top with mozzarella slices, avocado slices and tomato slices. Then pop the lid on and allow the mozzarella cheese to melt a little.
It's almost ready!
To serve, carefully place the chicken fillets onto the plates, top with fresh basil ribbons and drizzle with balsamic glaze. Add some roasted baby potatoes and a simple salad and you have a wonderfully tasty meal in about twenty minutes.
Enjoy!
Ingredients
2 – 3 chicken breast fillets halved horizontally
½ tsp garlic powder
½ tsp onion powder
½ tsp Italian herbs
Salt and freshly ground black pepper
2 Tbsp olive oil
1 large fresh mozzarella, cut into 8 slices
1 avocado, cut into thick slices
2 medium vine ripened tomatoes, sliced
3 Tbsp Mazetti balsamic glaze
1/3 cup chopped basil ribbons
Instructions
In a bowl, mix together garlic powder, onion powder, Italian herbs, ½ a teaspoon of salt and ¼ of pepper. Sprinkle mixture evenly over both sides of each chicken fillet.
Heat olive oil in a frying pan over medium-high heat. Add chicken and cook for 4-6 minutes, then turn and cook for a further 5 minutes or until golden brown and cooked though
Add two slices of mozzarella to the top each fillet, followed by avocado slices, and 1 - 2 tomato slices. Cover pan with lid, return to heat until the cheese begins to melt, just a minute or two.
Sprinkle chicken with pepper, drizzle with balsamic glaze and sprinkle with fresh basil. Serve hot with roast baby potatoes and a salad.
Notes
One chicken breast fillet will serve two people. There will be enough toppings for up to six servings.
https://mumslounge.com.au/lifestyle/food/avocado-caprese-chicken-recipe/