Beef Curry with Rice Recipe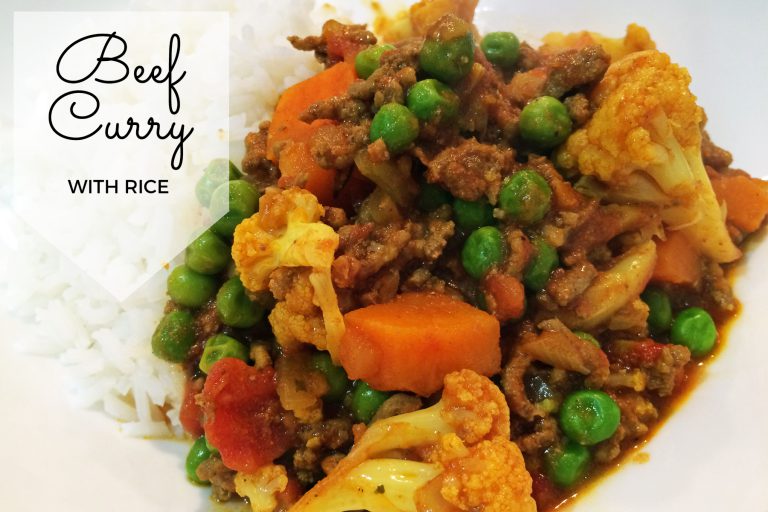 Beef Curry with Rice Recipe
Beef curry with rice is a family favourite for a very good reason – it is cheap, versatile, tasty and you can add loads of vegetables to it. This recipe calls for kumara (orange sweet potato), cauliflower and peas, which taste amazing when cooked with all the spices of the korma curry paste.
This beef curry is super easy to make, and you can have it on the table in about half an hour. Your printable recipe card is below, but first, the ingredients!
All very standard really, nothing too out of the ordinary! Rice (to serve), frozen peas, olive oil, curry paste, one tin of diced tomatoes, two kumara (orange sweet potato), an onion, two cloves of garlic, about half a cauliflower and 500 grams of beef mince.
Use whatever curry paste you fancy or have on hand. I bought some in a two for one deal a few weeks back and used some of that – it was a tikka marsala flavour. The recipe calls for korma but I really can't see it making that much of a difference. Just buy what you like or use what you have on hand. Life is too short to worry about things like that. It will be yummy whatever you decide.
Heat your olive oil in a big frying pan and add the onion and garlic, cooking until soft. Add the mince and cook it until brown, breaking it up with a spoon as it cooks. Then add your curry paste and stir it through until that delicious spicy smell hits your nostrils.
Then it's just a matter of stirring through your veggies and a tin of diced tomatoes. Bring it to the boil and then reduce the heat and let it simmer for 10 minutes and it will thicken slightly.
Add your thawed peas and let them warm through. Then simply serve on a bed of rice and enjoy. Easy!
Ingredients
1 tbsp olive oil
1 onion, finely chopped
2 cloves garlic, minced
500g beef mince
¼ cup korma curry paste
500g kumara (orange sweet potato) chopped
350g cauliflower, cut into florets
400g tin diced tomatoes
1 cup water
1 cup frozen peas, thawed
Instructions
Heat oil in a large frying pan over moderate heat. Cook onion and garlic for 2 minutes until softened.
Add mince and cook, breaking up with a spoon until browned. Add curry paste and stir through for 30 seconds until fragrant. Add kumara, cauliflower, tomatoes and water. Bring to the boil and reduce heat. Simmer for 10 minutes or until vegetables are tender.
Add peas and stir through for a minute or until heated through. Serve with rice.
https://mumslounge.com.au/lifestyle/food/beef-curry-rice-recipe/