DIY Felt Glasses Case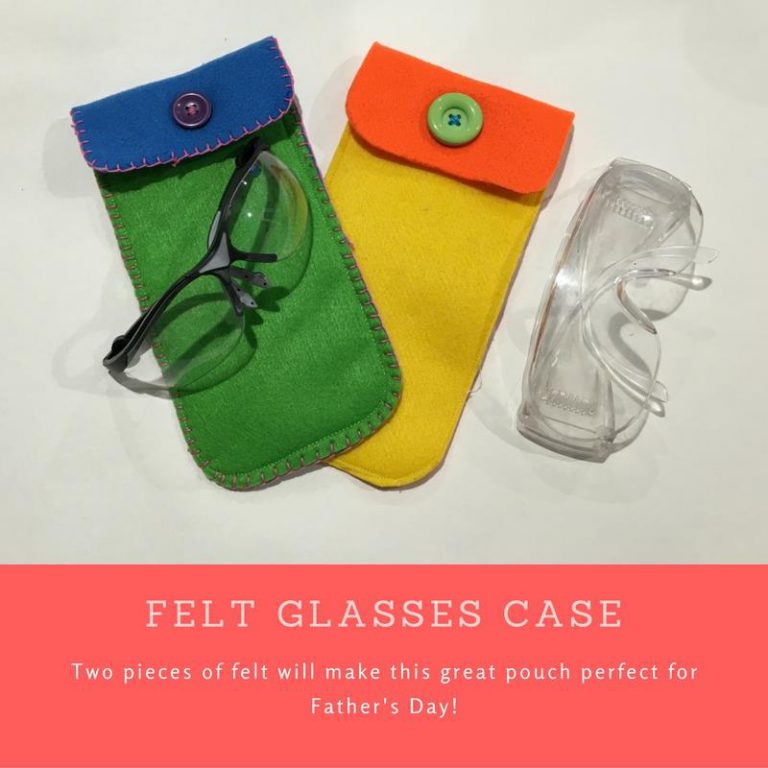 DIY Felt Glasses Case
I love handmade presents from my children and family, I can't get enough. My husband is the opposite. For him it needs to be practical or edible.
So was a surprise that when Annie and I were sitting sewing the other day he actually made a request!
He had lost his glasses case for the car and also needed a bright case for his safety glasses that kept getting lost and scratched in his tool box.
So we think that this is a great Father's day gift, birthday or Christmas gift for the man in your life!
You will need:
2 pieces of felt
embroidery floss
needle
button
Instructions:
Measure one piece of felt 30cm X12cm, round off the top for the flap
Measure another piece of felt 22cm X1 2 cm
We have made our pouch large to fit safety glasses so you can make them smaller for reading glasses just allow room for the thickness of the glasses when you cut.
Lay the two pieces of felt together so that they look like a pouch. We sewed around the edges of our pouches with a sewing machine but you can just use the blanket stitch if you like.
Blanket stitch all around the edges leaving the top open. Stich along the top flap for decoration.
Sew on the button.
Work out where the slit should be for the button hole then carefully cut out a slit.
You can button hole around this edge too.
Decorate! One of ours is embroidered with the word 'dad'. If you are going to embroider you are better off doing so before you stitch the pieces together.
The other pouch is decorated with fabric textas.
We used bright colours for a case for dad but using other colours would make a lovely gift for Mum or Nanna or anyone else in your life.
You can also use the pouch for many other things using different shapes and sizes. What about a mobile phone holder, a case for a special book? A pencil case?
Have fun making all sorts of pouches!
Don't forget to post us your photos of your creations, we'd love to see them!