Winter Camping Essentials: Top Tips for Camping in the Cooler Months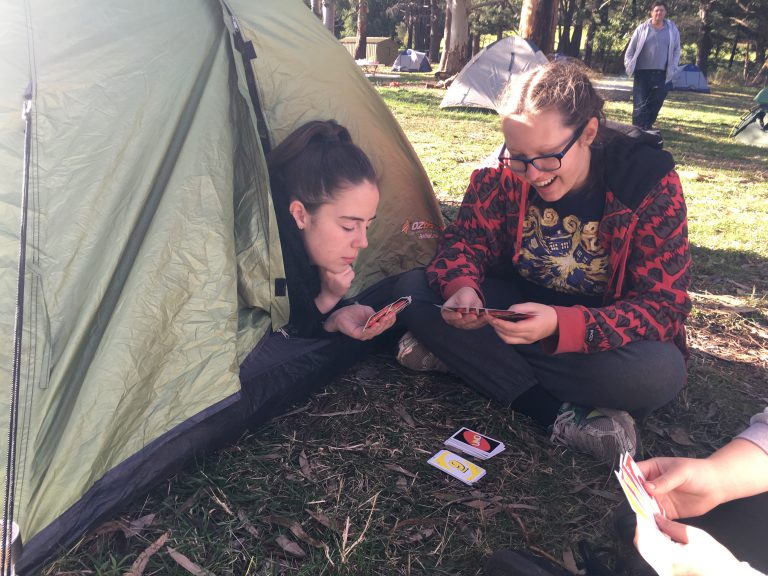 Winter Camping Essentials: Top Tips for Camping in the Cooler Months
Ignore the slight drizzle! Winter is the perfect time for a camping holiday! There are no flies or mosquitos and you won't get too hot! Right? Perfect reasons to go camping!! Plus you get to have a campfire and campfires are awesome!!
It doesn't have to be hard and it doesn't have to be expensive!
You can go to a caravan park, national park that allows camping or simply camp in the back yard!
Here are my top tips for camping
Winter Camping Must Haves:
If you are having a campfire of any sort you need to get these essentials from Cheap as Chips
1. Good quality metal water bucket for dousing the fire
2. Fire blanket
3. First aid kit! I usually get a couple of these as they are handy to keep in the kitchen as well as near the fire.
This awesome pouch is actually for keeping your clutter in the car but it has very handy clips that allow you to hand it anywhere. We slung it around a tree to keep all of our first aid kits and fire blankets handy and at eyesight but keeping them off the wet ground and away from little fingers. I bought heaps of these as they are also really cool for storing gear off the ground in the tent, essentials like my book, teddy and torch! It's called a "perfect pouch' and they are incredibly useful!
The next set of essentials are
• Teabags If its cold you really cant go wrong and cold tea bags are really soothing for bug bites.
• Duct tape There is nothing that cant be fixed with cable ties and duct tape, leaks in the tent, extra grip on the soles of your shoes, typing things together, holding table cloths on the tble.. you will use it!
• Hand sanitizer Yes, hands should be washed but a little extra insurance is worth it! Nothing is more miserable than gastro in a tent!
• Disposable wash cloths Use a new one every meal, you will need to keep down the dust, mud and general muck of kids camps. You can also use them to dry things, make pouches for collecting things like gum nuts and rocks, cleaning wounds, they are an essential!
• Disposable food covers are a great thing to take, apart from the obvious of keeping your food covered, you will need them for that! But also they are really great to put your muddy/smelly shoes in so that you don't drag mud into the tent! You can also use them to keep your hair dry in the shower!
• These handy clips are great, everything you can keep off the floor is good and believe me, the small torches are great to leave handing around because when you want one they are easy to locate, this really helps with the late night loo trips!
• These water proof bags are awesome!! They take a heap of gear and are not only waterproof but bird proof! This is where I keep my book and my chocolate! They are also great for keeping your medication or anything that mustn't get moist in! I keep a heap in my boat for mobile phones and keys and at $15 they are a good investment.
Going camping with a group? Even in a caravan park it can be confusing for kids to remember which tent or cabin is the one that they are residing in, let's face it, they all basically look the same!
• Cheap as Chips has a great range of wind socks, windmills and things like that, it makes it so much easier to identify where you are!
• Similarly, the $15 pack of solar lights are really ggod for not only showing what tent is yours but if you put one on each peg you can avoid a tripping hazard in the night!
• A cheap rubber door mat is great for putting on the front of your tent, it not only stops you bringing in dirt but it saves you from soggy knees when you are getting in and you can sit on it to take your shoes and socks off!
• A battery powered lantern form Cheap as Chips wont set you back very much, as well as looking very retro they stay cool so they can go in your tent and hang from the roof and best of all you can dim the light so that little ones can drift off to sleep easily!
• Take a deck of cards and some UNO, it one of the great things about going on camp, finding the time to enjoy a great family game! It comes in handy if it rains or even on the car trip there.
• Warm socks and a warm hat!
If your head is warm and your feet are dry and warm you will be fine! We have a rule on camp that as soon as it starts to get dark the hats must go on! You will really avoid that horrible chill that comes when the sun goes down.
Well, that is a few of my camping essentials! Obviously you can get down to Cheap as Chips for all of your other camping needs like your tent, warm blankets, pillows, tarps, fishing rods… pretty much everything but consider my advice here and take a good look at what I have picked out for my winter Camping essentials!