Bacon Macaroni Bake Recipe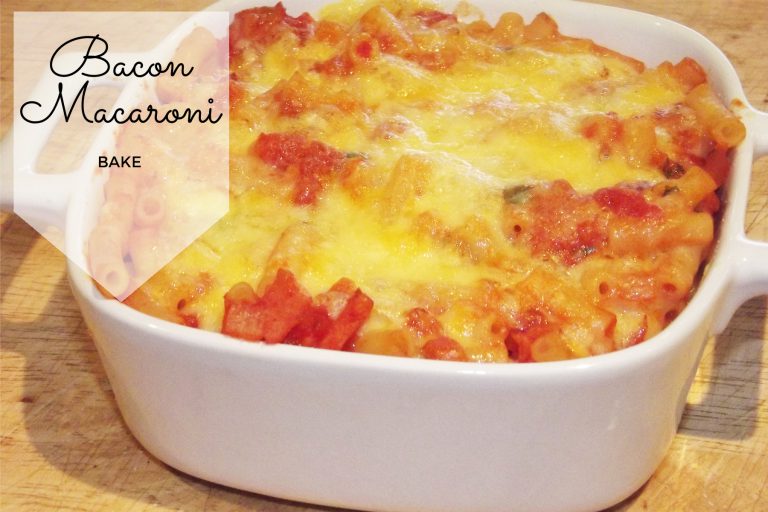 Bacon Macaroni Bake Recipe
Here's a simple, tasty meal to keep in your stash for those nights when you really can't figure out what to cook for dinner. Just twenty minutes and ten ingredients is all it takes to throw this tasty cheesy bacon macaroni bake together for a hot, satisfying meal for your family.
This recipe is really simple to pull together, making it an ideal dinner to make with children who are learning to cook.
First, boil a pot of salted water and cook the macaroni pasta.
Then, while the pasta is cooking, saute the onion and garlic in olive oil for a few minutes. Add the bacon and fry until crisp, then add the tin of tomatoes and tomato paste. Cook for a further five minutes or until the sauce has thickened slightly, then stir through the parsley and drained macaroni.
Spray individual baking dishes with cooking spray and add the bacon macaroni mixture. Top with slices of bocconcini or grated mozzarella and pop under the grill for a further five minutes or until melted and golden. Serve immediately.
It is absolutely perfect as it is, or you can get creative and add other ingredients to the pasta bake too. Think mushrooms, peas, zucchini, capsicum, chilli, eggplant — whatever you and your family like to eat.
Enjoy!
Ingredients
250g dried macaroni pasta
1 tablespoon olive oil
1 brown onion, finely chopped
1 garlic clove, crushed
8 middle bacon rashers, coarsely chopped
1 x 410g can chopped tomatoes
2 tablespoons tomato paste
1 tablespoon chopped fresh continental parsley
Olive oil spray
180g bocconcini, drained, sliced or grated mozzarella cheese
Instructions
Cook the pasta in a large saucepan of salted boiling water following packet directions or until al dente. Drain.
Meanwhile, heat the oil in a medium frying pan over medium-high heat. Add the onion and garlic, and cook, stirring often, for 3 minutes or until onion is soft. Add the bacon and cook, stirring often, for 2 minutes or until crisp. Stir in the tomato and tomato paste. Cook, stirring occasionally, for 5 minutes or until the mixture thickens. Stir in the parsley and drained pasta.
Preheat grill on medium-high. Spray four 1 1/2-cup capacity baking dishes with oil to lightly grease. Divide the pasta among the dishes and arrange the bocconcini on top. Place under grill and cook for 5 minutes or until the cheese melts. Serve.
https://mumslounge.com.au/lifestyle/food/bacon-macaroni-bake-recipe/