Beef Brisket Three Ways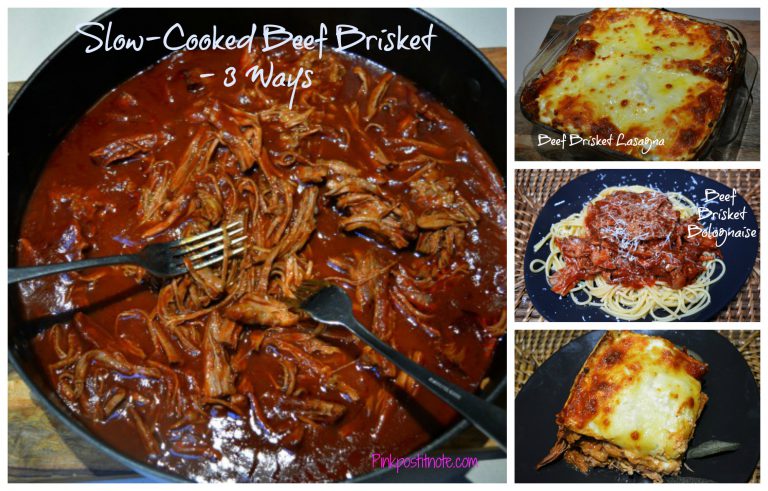 Beef Brisket Three Ways
Do the words 'beef brisket mean anything to you? Brisket is HUGELY popular in America but is only just starting to gain in popularity in Australia so if you want to be on-trend and ahead of the pack, stay with me here for a minute or two.
It is unlikely you will find beef brisket sitting alongside the other cuts of meat in the supermarket. You will either have to smile sweetly at your local butcher and ask him to save you a piece (cause it usually gets chucked in the mincer), or try Tasman Meats as they are regularly stocking it now. Do not try and substitute other cuts of beef for this as it just doesn't work.
Beef brisket is a particularly tough cut of meat and it is one of those meats like lamb or pork shoulder that transforms like magic into the most meltingly, tender, sweet, sticky bits of heaven from a long slow cook. If you haven't got a smoker (which I sadly, do not yet own) you will have to braise it slowly in liquid. And when I say slowly I'm only talking about four hours, so it's something you can pop into a slow cooker before you leave for work or just chuck it in the oven like I do.
The sauce for this recipe is much like a bolognaise sauce with the addition of traditional ingredients like tomato puree, garlic, red wine and oregano but just to kick it up a notch there is also a tiny bit of chilli and some crushed fennel seeds. This is just as easy as making a bolognaise out of mince. Probably easier as there's no stirring!
The bigger the piece you buy, the more you can freeze and save for later to transform into other dishes because even though this is absolutely sensational just on its' own served with mashed potatoes and vegetables, it is equally at home stuffed into taco shells or bread rolls. But if you freeze those left overs, turn the rest into spaghetti bolognaise like you have NEVER had, or into the best lasagna eva. You're welcome.
Ingredients
1.5 - 2kg piece of brisket, trimmed of fat
2 tbsp. olive oil
3 cloves of garlic, crushed
1 onion, chopped
1 cup red wine
2 cups beef stock
700ml tomato passatta
2 tsp crushed fennel seeds
1 tsp dried oregano
1 tsp chilli flakes (optional)
sea salt & cracked black pepper
Instructions
Pre-heat oven to 180C/160C/350F.
In a large pot/frypan that takes a lid, heat up the olive oil and then brown the brisket on all sides. Remove and set aside.
Adding more oil if the pan is dry, toss in the garlic and onion and saute until soft. Add the red wine and cook until reduced slightly. Then add the rest of the ingredients including the brisket. Season with salt and pepper. Pop on the lid and put into the oven for four hours, turning the meat occasionally (if you can be bothered).
Shred with forks and you are ready to eat it all on its' own with some sides like mashed potatoes or corn.
The second way is to eat it as a bolognaise sauce with some al dente spaghetti.
The third is to turn it into a lasagne using 1 x 500g tub of ricotta cheese and 1 x 250g bag of shredded mozzarella. Simply mix 2/3rds of the cheese with the ricotta, season with salt and pepper. Then layer a baking dish with 1/3 of the meat sauce, followed by a layer of fresh lasagne sheets, followed by a layer of the ricotta mixture. Repeat until you finish with lasagne sheets and ricotta. Scatter over the remaining mozzarella and bake at 180C/160C fan-forced for approximately 30 minutes or until golden and bubbly. Rest in the pan for 5 minutes before slicing.
https://mumslounge.com.au/lifestyle/food/beef-brisket-three-ways/