Beef Burgers with Tonkatsu Sauce Recipe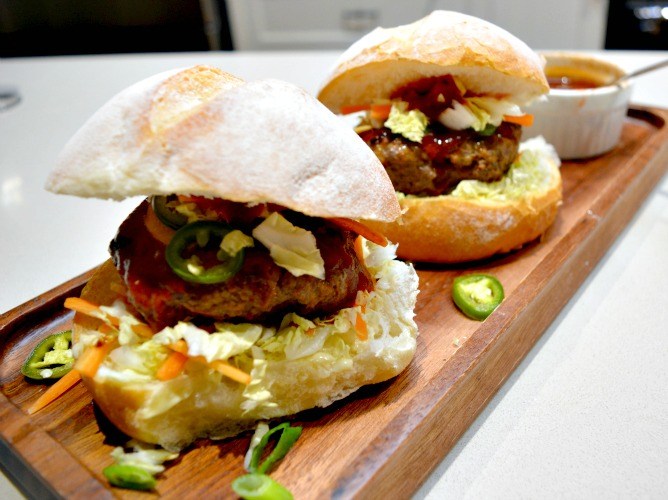 Beef Burgers with Tonkatsu Sauce Recipe
OK, so the first thing you may be wondering is what the hell is Tonkatsu Sauce? It sounds a bit Japanese but I couldn't be bothered googling it so I can't say for sure whether it is or it isn't. Suffice to say that it's a little bit sweet and a little bit tart and it is delicious. Some goes into the burgers themselves and the rest goes on top. And these will be the BEST burgers you have ever eaten. And, and, they are healthy! They have fresh, crunchy vegetables on top, no cheese, no bacon, nothing bad in them (well, a tiny bit of mayo but that's it). So now you're probably thinking, how can they be the best burgers you will have ever eaten if they don't have naughty fillings?
Because there is so. much. flavour. in every single bite. The pickled chillies and ginger, the tonkatsu sauce and the crunch from the carrot, onion and cabbage is absolutely to die for.
I could eat these every week and never get sick of them. Literally hours after I made these the last time I kept looking over at my husband and saying – those burgers. And he's like "yeah, I KNOW". Delicious.
Beef Burgers with Tonkatsu Sauce Recipe
Ingredients
Pickled Bits
1/2 cup rice vinegar
1/2 cup sugar
2 jalapeno chillies, cut into 2mm thick slices
4cm piece fresh ginger, peeled, cut crossways into 1mm thick slices
Tonkatsu Sauce
2/3 cup tomato sauce
2 tbsp fresh lemon juice
2 tbsp worcestershire sauce
2 tsp soy sauce
Burgers
500g beef mince
1/2 head cabbage (I used wombok), very thinly sliced
1 small carrot, peeled, cut into thin matchstick-size strips
1 spring onion, thinly sliced
1 tbps canola oil
4 seeded bread rolls, split, toasted
1/4 cup mayonnaise
Instructions
In a small saucepan, combine vinegar, sugar, 1/2 cup water and 1 tsp salt. Bring to a boil. Remove from heat. Add chilli and ginger. Set aside for 20-30 mins or until cooled completely.
Meanwhile, to make the tonkatsu sauce, combine the tomato sauce, lemon juice, worcestershire sauce and soy sauce in a small bowl. Season with salt.
In a medium bowl, gently mix the beef with 4 tbsp of the tonkatsu sauce. Shape into 4 patties. Toss the cabbage, carrot, and spring onion in a medium bowl.
Heat a large heavy frying pan over medium-high heat. Add the oil, then the patties. Cook for 3-4 mins each side or until the patties are deeply caramelised and cooked through. Remove patties from the pan and immediately spread 1 tbsp of the tonkatsu sauce over each.
Spread the mayonnaise over the roll bases. Top with half the cabbage mixture, then top with the patties. Place about 6 pieces each of pickled chilli and ginger on each patty and top with more cabbage mixture. Spread more tonkatsu sauce on the roll tops and set the tops on the burgers. Serve immediately.
https://mumslounge.com.au/lifestyle/food/beef-burgers-with-tonkatsu-sauce-recipe/
Note: Make the tonkatsu sauce up to 5 days ahead, then cover and refrigerate. Shape the burger patties up to 4 hrs ahead, then cover and refrigerate.
Carolyn started her blog Pinkpostitnote.com just over a year ago as a way to deal with her obsession of trying new recipes from the copious collection of cookbooks that she owns (and continues to buy). She is particularly fond of "man" food, both cooking it and eating it. She will happily elbow people out of the road at the sight, sound and smell of a pulled pork burger. When she's not lying awake at 5am wondering if she should buy chooks and a cow to deal with the constant need for eggs and butter, she's dealing with all the paperwork associated with owning a bunch of tip trucks and her favorite time of the day is wine five o-clock.