Indian Meatball Curry Recipe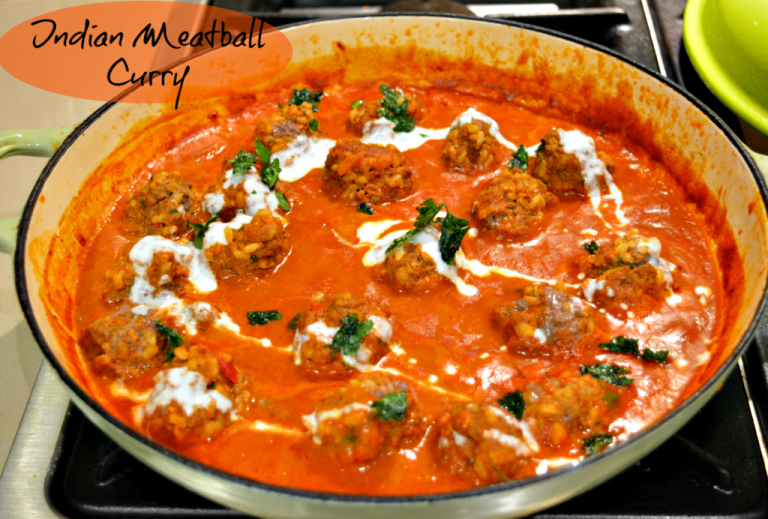 Indian Meatball Curry Recipe
Usually when you see a curry recipe, you know it's going to take time – there's spice mixes and pastes to make up, there's marinating to be done (usually overnight) and then you have to slowly add the different ingredients and do a long, slow cook. So, then you turn the page. And you don't make the curry.
Well, keep reading because THIS is curry in a hurry but with all the flavour. And there's rice in the meatballs – brown rice – healthy, brown rice. And it's the microwave packet kind. No cooking of the brown rice. My mouth was absolutely singing and humming while I ate this. My husband was late getting home from work and I could smell it simmering on the stove while I caught up on Mad Men from Netflix and I must've paused the show 7 or 8 times so I could just go 'taste' it one more time. I had practically had my full serve by the time he got home. It was That. Good.
Indian Meatball Curry Recipe
Ingredients
500g lean beef mince
125g pkt microwave brown rice, divided (do not microwave)
1/4 cup fresh coriander leaves OR parsley, chopped
1 long fresh red chilli, finely chopped
5 tsp garam masala
4 garlic cloves, crushed
2 tbsp ghee or butter
1 1/2 tsp ground cumin seeds
1 tsp mustard seeds
1 medium red onion, finely chopped
4cm piece ginger, finely grated
1 tsp ground turmeric
410g can tomato puree
125ml (1/2 cup) water
150ml coconut milk
fried coriander or parsley leaves to serve (optional)
250g pkt microwave brown rice, extra, heated, to serve
Instructions
In a large bowl combine the beef, half the rice, coriander or parsley, half the chilli, 2 tsp garam masala and 1 garlic clove. Season well. Shape small spoonfuls into balls. Place on plate and refrigerate until required.
Heat the ghee (if you don't have ghee, use butter and a dash of olive oil so the butter doesn't burn) in a frying pan over medium heat. Cook the cumin and mustard seeds, stirring, for 1 minute. Add the onion and cook for 2-3 minutes or until softened. Stir in the ginger, remaining garlic, chilli, turmeric and remaining garam masala for 1 minute.
Add the tomato puree and water. Season. Bring to a simmer. Add the meatballs. Reduce heat to low. Cook, covered for 5 minutes. Stir in 1/2 cup coconut milk. Cook, covered, for 6 minutes or until meatballs are cooked through. Drizzle with the remaining coconut milk. Top with the fried coriander or parsley leaves, if using and serve with the extra rice.
https://mumslounge.com.au/lifestyle/food/indian-meatball-curry-recipe/
Carolyn started her blog
Pinkpostitnote.com
just over a year ago as a way to deal with her obsession of trying new recipes from the copious collection of cookbooks that she owns (and continues to buy). She is particularly fond of "man" food, both cooking it and eating it. She will happily elbow people out of the road at the sight, sound and smell of a pulled pork burger. When she's not lying awake at 5am wondering if she should buy chooks and a cow to deal with the constant need for eggs and butter, she's dealing with all the paperwork associated with owning a bunch of tip trucks and her favorite time of the day is
wine
five o-clock.