Best-Ever Cheese & Bacon Potato Bake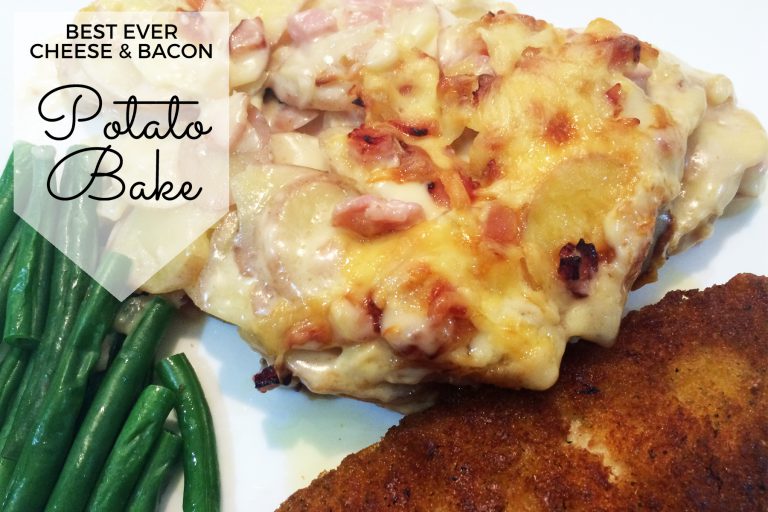 Best-Ever Cheese & Bacon Potato Bake
Ahhh, the old Aussie side-dish favourite. Who doesn't love creamy cheesy potatoes? I've been experimenting with this one over the years, from packet mixes to just pouring cream and grated cheese over the top of a heap of sliced spuds. But this really is the best-ever cheese & bacon potato bake there is.
Buy the best quality bacon you can afford and grate your own cheese instead of using a packet – those are my biggest tips for this dish. They really make all the difference. A little onion and garlic take this standard Australian barbecue fare from average to amazing!
Best-Ever Cheese & Bacon Potato Bake
Ingredients
60g butter
¼ cup plain flour
2 1/3 cups milk
2 cups grated tasty cheese
1.2kg Sebago potatoes, peeled, thinly sliced
1 tablespoon olive oil
1 medium onion, finely diced
1 clove of garlic, crushed
6 rashers of smoked shortcut bacon, chopped
Salt and pepper to taste
Chicken schnitzels and green beans to serve
Instructions
1. Preheat oven to 180°C. Grease a 6cm deep, 24cm square baking dish.
2. Heat oil in frying pan and sauté onion and garlic for 3 minutes. Add bacon and fry until just cooked.
3. Melt butter in a heavy-based saucepan over medium heat. Add flour and cook, stirring constantly, for 2 minutes, or until bubbly. Slowly add milk, stirring constantly until well combined. Cook, stirring, until sauce comes to the boil. Add one and a half cups of cheese and stir to combine.
4. Arrange one-third of potatoes, overlapping slightly, over base of baking dish. Sprinkle with salt and pepper. Spoon one-third of the bacon and onion mixture and one-third of the cheese sauce over potatoes. Repeat twice. Sprinkle with remaining cheese.
5. Bake for 1 hour, or until potatoes are tender and top is golden. If top begins to brown too much, cover with foil.
https://mumslounge.com.au/lifestyle/food/best-ever-cheese-bacon-potato-bake/