Cadbury Creme Egg Brownie Cake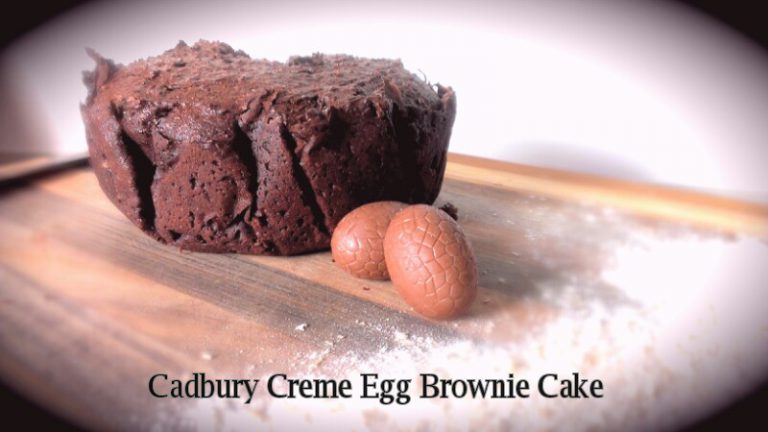 CADBURY CRÈME EGG BROWNIE CAKE
Everyone loves chocolate and everyone loves cake. This awesome Cadbury creme egg brownie cake is a must have for any serious chocolate fan!
Ingredients:
80g Castor Sugar
100g Nuttelex (or other dairy free spread)
2 eggs
60g water
150g wholemeal flour
50g cocoa powder
1 tsp baking powder
Pinch of salt
1 x 130g packet of Cadbury crème mini eggs
Step One:
A – Preheat the oven to 175oC and grease an 8″ brownie/cake tin. I also lined my cake tin with baking paper giving the resulting brownie a rustic look from the folds in the paper.
K – Measure out the castor sugar and nuttelex and cream them together in the bowl.
Step Two:
A/K – Break and add the two eggs
A/K – Zero the scales & add the water (it's about ¼ cup)
K – Zero the scales and add the wholemeal flour and then zero again for the cocoa powder
K – Add the baking powder along with the pinch of salt and mix really well
Step Three:
K – Remove the foil from the Cadbury crème eggs and break them in half. Add the eggs to the batter. After mixing in the chunks of crème eggs, spread the batter out in your tin evenly. (Note: This mixture is very thick & is challenging to spread out evenly)
A – Place brownies into the oven to bake for 30-40min. (Test that the brownies are cooked after 30min with a skewer, if not leave to bake for an extra few minutes).
Happy Eating!
About the Writer:
Simone Emery is a mum and owner of Sydney based, Play with Food. Play with Food run fun-filled classes and workshops about fruit and vegetables. We use seasonal produce and give parents lots of ideas for encouraging happy and healthy eating in the home environment. Check out our website for more information on singing, playing and laughing your way to happier family eating experiences www.playwithfood.com.au.