Char Grilled Thai Lamb Cutlets Recipe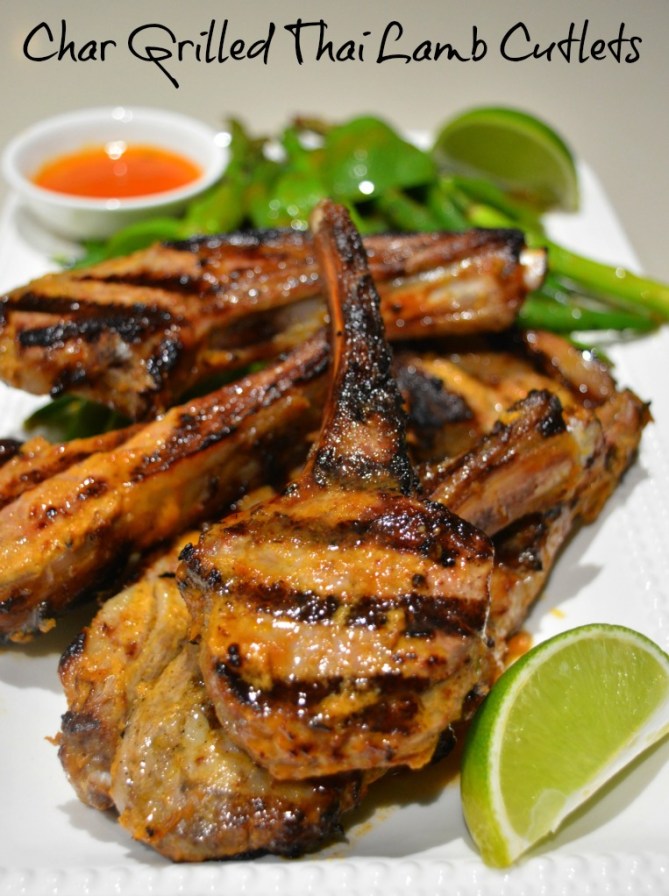 Char Grilled Thai Lamb Cutlets Recipe
I LOVE, love, love lamb cutlets. How can you not love a piece of meat that comes with a handle? They are always so juicy and succulent. And kind of expensive too. I think I paid $34 for a tray of them. And have you ever noticed that lamb cutlets come in 6 or they come in 12? 3 each isn't enough when there's only a few bites of meat on them and 6 each is too many which means we always end up stuffing ourselves stupid with them or eat one cold, standing on one foot in front of the fridge the next day. And how come lamb is so expensive anyway when this country is abundant with lamb?
These cutlets have only 3 ingredients and only need a quick 15 minutes marinade before grilling them.
Serve with whatever sort of vegetables you like – but they did go fabulously well with asparagus, red onion, beans and some fresh basil.
Ingredients
1/3 cup low fat coconut cream
1/3 cup Thai red curry paste (divided)
1/4 cup lime juice (divided)
sea salt and cracked black pepper
12 x lamb cutlets, trimmed
1 tbsp. olive oil
2 tsp caster sugar
1 bunch of Asparagus
1 small red onion, thinly sliced
1 handful fresh Basil leaves
200g fresh green beans
Lime wedges to serve
Instructions
Place the coconut cream, 1/4 cup of the curry paste, 1 tbsp. of the lime juice, salt and pepper in a large bowl and mix to combine. Add the lamb and toss to coat. Set aside to marinate for at least 15 minutes.
While the lamb is marinating, place the oil, sugar, the remaining curry paste and lime juice in a large bowl and whisk to combine.
Place the asparagus and green beans in a pot, cover with water and bring to the boil. As soon as the water has boiled, drain and rinse with cold water. Add the vegetables to the bowl with the dressing along with the basil leaves and toss to combine.
Pre-heat a BBQ or char grill pan over medium heat. Cook the lamb for 4 minutes each side or until charred and just cooked through. Serve with the salad and lime wedges.