Top 10 Books For Women Right Now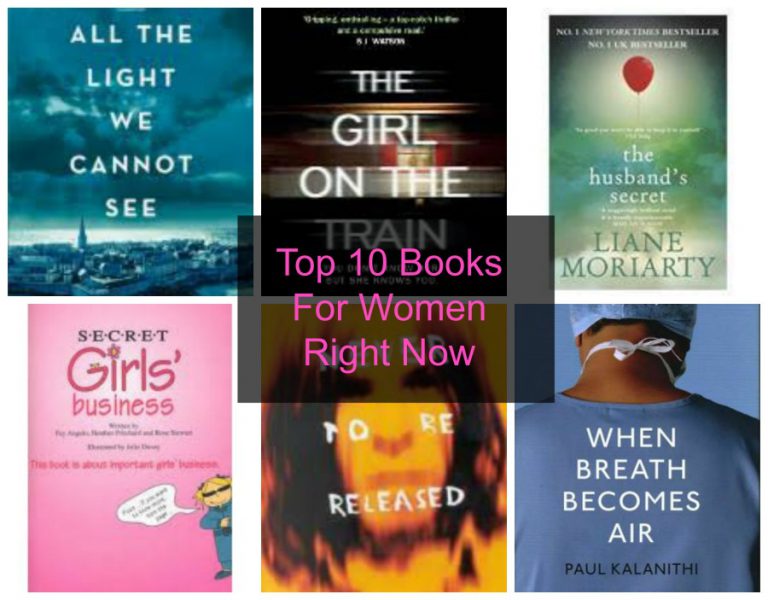 Top 10 Books For Women Right Now
One of my favourite ways to unwind and relax is to read a good book. Life is too short to read bad books don't you think? I love escaping my life, just for a moment, and being taken on a journey. I didn't get to read too many books when I had babies, but now that my girls have started to get older and become a little more independent, I've been able to indulge in my favourite hobby.
These are the top 10 books for women right now. If you're looking for something new to read, why not check out this list as compiled by Google.
1. The Girl on the Train by Paula Hawkins
This book is number one on the list of Google's top books for women right now.
Rachel catches the same commuter train every morning. She knows it will wait at the same signal each time, overlooking a row of back gardens. She's even started to feel like she knows the people who live in one of the houses. 'Jess and Jason', she calls them. Their life – as she sees it – is perfect. If only Rachel could be that happy.And then she sees something shocking. It's only a minute until the train moves on, but it's enough. Now everything's changed.
2. The Life Changing Magic of Not Giving a F*ck by Sarah Knight
A brilliant, hilarious homage to The Life-Changing Magic of Tidying Up, showing how to shed your mental clutter for good. Aimed at overachieving but dissatisfied people everywhere. "Does this affect anyone other than me?") ; and the two keys to successfully not giving a stuff without coming across as a snob or arrogant. So, get rid of the mental clutter, ditch the perfectionism and create the life you want – for good.
3. Secret Girls' Business by Heather Pritchard
Here is a book to help young girls understand the changes they go through when reaching puberty. 'Secret Girls' Business' will enable girls, and the important adults in their lives, to make this transition with joy and pride.
4. The Husband's Secret by Liane Moriarty
The no. 1 New York Times bestsellerfrom the author of Big Little Lies "A staggeringly brilliant novel. It is literally unputdownable." – Mail on Sunday – How well do you know your husband? Cecilia Fitzpatrick, devoted mother, successful Tupperware business owner and efficient P&C President, has found a letter from her husband. And when she questions him about it on the phone, Cecilia senses something she hasn't experienced before. – John-Paul is lying. – What happens next changes Cecilia's formerly blissful suburban existence forever, and the consequences will be life-changing for the most unexpected people. – Named one of Entertainment Weekly's Best Books of the Year and People magazine's Top Ten Books of the Year
5. Last Woman Hanged by Caroline Overington
One woman. Two husbands. Four trials. One bloody execution. Both of Louisa's husbands died suddenly. Much of the evidence against Louisa was circumstantial. Women could not vote or stand for parliament – or sit on juries. There were no female politicians and no women judges. The tenacity of these women would not save Louisa but it would ultimately carry women from their homes all the way to Parliament House. Less than 15 years after Louisa was hanged, Australian women would become some of the first in the world to get the vote. They would take seats in State parliament, and in Canberra. They would become doctors, lawyers, judges, premiers – even the Prime Minister. Caroline says: 'My hope is that Last Woman Hanged will be read not only as a true crime story but as a letter of profound thanks to that generation of women who fought so hard for the rights we still enjoy today.
6. All The Light We Cannot See by Anthony Doer
For Marie-Laure, blind since the age of six, the world is full of mazes. The miniature of a Paris neighbourhood, made by her father to teach her the way home. The microscopic layers within the invaluable diamond that her father guards in the Museum of Natural History. The walled city by the sea, where father and daughter take refuge when the Nazis invade Paris.
7. Stop F*cking Around by Craig Harper
The Self-Help book for people who hate Self-Help. It's simple, strategic, funny and empowering.
8. Never to be Released by Paul B. Kidd
Never to be released – a rare recommendation reserved for the most vicious of killers. The mass murderers. The serial killers. Those who rape and murder in gangs. With the help of legendary police rounds reporter, the late Joe Morris, Paul B. Kidd has compiled the inside stories of Australia's most horrendous crimes to help ensure that their perpetrators remain behind bar.
9. When Breath Becomes Air by Paul Kalanithi
THE NEW YORK TIMES NUMBER ONE BESTSELLER 'Finishing this book and then forgetting about it is simply not an option… One day he was a doctor treating the dying, the next he was a patient struggling to live. What makes life worth living in the face of death? What do you do when life is catastrophically interrupted? What does it mean to have a child as your own life fades away? Paul Kalanithi died while working on this profoundly moving book, yet his words live on as a guide to us all.
10. The Lost Girls by John Glatt
A" New York Times "Bestseller!""" New York Times "bestselling crime writer John Glatt tells the true story behind the kidnappings and long-overdue rescue of three women found in a Cleveland basement. There are also revealing interviews with several Castro family members, musician friends and several neighbors who witnessed the dramatic rescue.
What books have you read recently that have moved you or have enjoyed reading?
Disclaimer: There are affiliate links on this post. Should you choose to purchase an item, we will receive a small commission at no extra cost to you.