Chargrilled Hoisin Quail with Watercress & Cherry Tomato Salad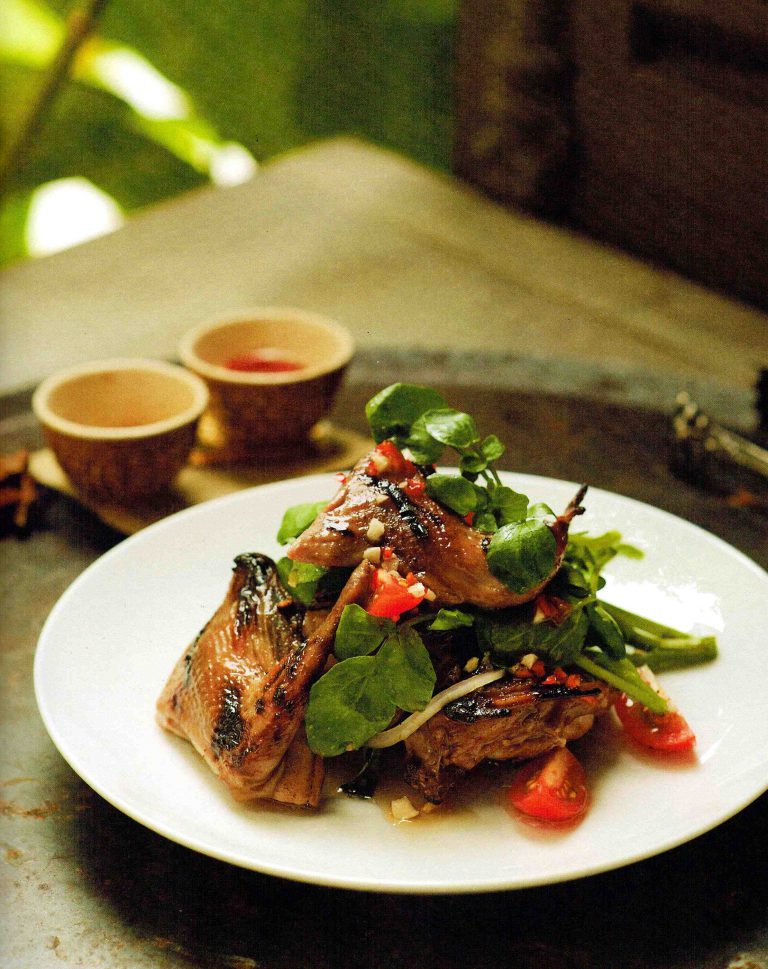 CHARGRILLED HOISIN QUAIL WITH WATERCRESS AND CHERRY TOMATO SALAD
Serves 4-6 as part of a shared meal
INGREDIENTS
6 quails
1 bunch watercress, picked
12 cherry tomatoes, quartered
1 red onion, thinly sliced into rings
2 tablespoons dipping fish sauce (N??c M?m Ch?m)
MARINADE
1 teaspoon dark soy sauce
2 tablespoons light soy sauce
1 tablespoon fish sauce
2 tablespoons honey
2 tablespoons hoisin sauce
6 garlic cloves, chopped
1 teaspoon sugar
teaspoon five-spice
1 star anise, broken into a few pieces
1 teaspoon shaoxing rice wine vinegar
METHOD
To prepare each quail, cut off the neck and then split the quail by cutting down each side of the backbone using poultry scissors or a sharp knife. Discard the backbone. Place the quail on a chopping board, skin side up, and press down firmly with your hand to flatten it. Wash away any remaining viscera under cold water, then pat dry with kitchen paper.
Combine the marinade ingredients in a large bowl and mix well. Add the quails and turn to coat in the marinade, then cover and place in the fridge to marinate for 2 hours.
Remove the quails from the marinade and drain well, reserving the marinade. Place the marinade in a saucepan, bring to the boil and cook for 4 minutes, or until the marinade reduces and thickens a little.
Heat a barbecue grill or chargrill pan to medium heat. Chargrill the quails for 4-6 minutes on each side, depending on their size, cooking them skin side down first. While the quails are cooking, baste them with the thickened marinade every 2 minutes.
Combine the watercress, tomatoes and onion in a mixing bowl then dress with the dipping fish sauce.
Chop the quails into quarters by cutting the legs off at the thigh joint and the breasts in half lengthways. Transfer to a serving plate and top with a handful of watercress salad. Drizzle with the remaining marinade before serving.
DIPPING FISH SAUCE
Makes 250 ml (9 fl oz / 1 cup)
INGREDIENTS
3 tablespoons fish sauce
3 tablespoons rice wine vinegar
2 tablespoons sugar
2 garlic cloves
1 bird's eye chilli
2 tablespoons lime juice
METHOD
Combine the fish sauce, rice vinegar, 125 ml (4 fl oz / cup) water and sugar in a saucepan and place over medium heat. Stir well and cook until just before boiling point is reached, then allow to cool. To serve, finely chop the garlic and chilli and stir through with the lime juice. To liven it up, add pickled vegetables.
Contributed by Luke Nyugen from Sydney's Red Lantern Restaurant.