Cheesy Beef Cannelloni Recipe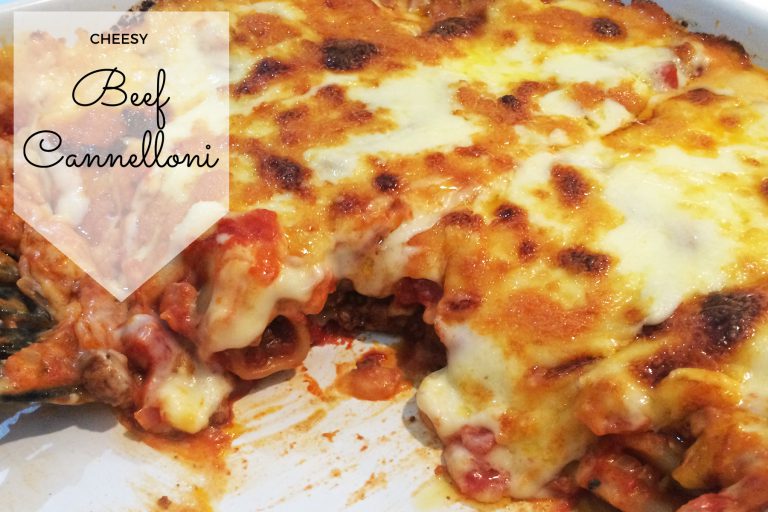 Cheesy Beef Cannelloni Recipe
Cannelloni usually has more to do with spinach than beef, but this fabulously cheesy beef cannelloni is a game changer. Al dente pasta tubes filled with rich bolognaise sauce, sandwiched between homemade tomato sauce and topped with a cheesy bechemel, then finished with a layer of melted cheese. Well worth the extra effort to make this dish!
This recipe details how to make it all from scratch, but there's no reason why you can't call in some help from Mr Leggo or Mrs Dolmio. The tomato sauce is very easy – just tins of tomatoes, garlic and onion – but you could make the bolognaise with mince and a jar, and use bechemel from a jar instead of making it from scratch. Whatever works for you.
Cheesy Beef Cannelloni Recipe
Ingredients
1 family sized serving of bolognaise sauce recipe here
2 packets of cannelloni shells
2 tablespoons olive oil
2 tins of tomatoes
1 large onion, finely chopped
2 cloves of garlic, minced
50gms butter
¼ cup of plain flour
2 cups milk
2 cups grated tasty cheese
Salt and pepper to taste
Instructions
Make the bolognaise sauce as per recipe here. You don't need to make it in the slow cooker, it will be fine on the stovetop in a big heavy based pan. This step will take about 2 hours. Allow to cool while you prepare the remaining elements.
Preheat oven to 180°C.
Heat the oil in a frying pan and sauté onion and garlic until tender. Add the tins of tomatoes and season with salt and pepper. Simmer for 5 minutes or until the tomato sauce thickens slightly. Remove from heat and allow to cool slightly.
Melt the butter in a medium sized saucepan and add the flour, whisking to combine over medium heat. Slowly add the milk a little at a time while continuing to whisk. Keep stirring as the sauce thickens. Turn off the heat to the saucepan and add half the cheese to the white sauce stirring to combine. Reserve the other half of the cheese for the topping.
Spread half of the tomato sauce mixture across the bottom of a large lasagne-sized casserole dish.
Using a teaspoon, fill each of the cannelloni shells with bolognaise sauce and place on top of the tomato sauce, ensuring the entire surface is covered completely with filled shells. It is best to fill the shells one at a time while they are standing in the casserole dish, and then lay them flat.
Top with remaining half of the tomato sauce, then spread the cheesy white sauce over the top, ensuring that all of the cannelloni tubes are fully covered.
Sprinkle grated tasty cheese over the top and bake in the oven for 45 minutes or until the cannelloni shells are cooked through. Cover with a sheet of foil to stop the cheese from burning if necessary.
Serve immediately with garlic bread.
https://mumslounge.com.au/lifestyle/food/cheesy-beef-cannelloni-recipe/