Cheesy Beef Pastitsio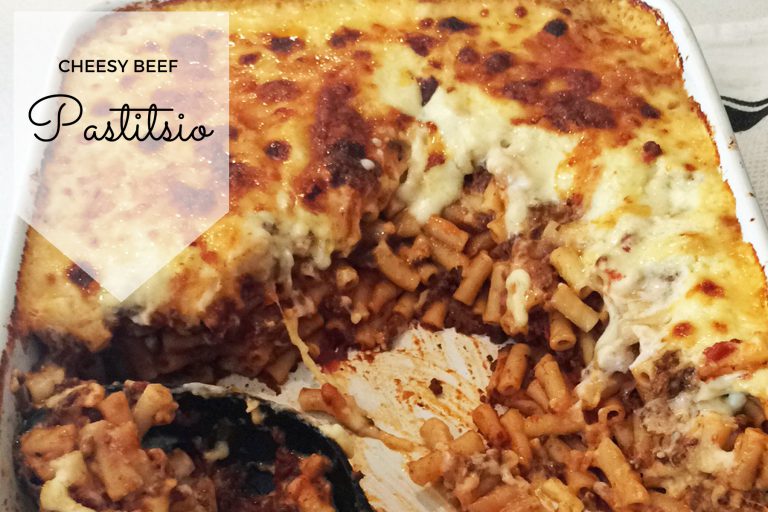 Cheesy Beef Pastitsio
This cheesy beef pastitsio is one of those recipes that all of us need tucked away in the backs of our minds for that one day when all we have is a freezer full of leftovers and absolutely no inspiration. It's quick, tasty, budget friendly, and just that little bit different from the ordinary.
An authentic pastitsio is a traditional Greek meal using lamb mince and including yummy things like feta and cinnamon and passata. This is very similar, but instead of making a whole new mince sauce, it uses up a full family sized portion of spaghetti bolognaise leftovers, stretching your budget even further and creating a whole new meal in the process.
Ingredients
Leftover spaghetti bolognaise sauce – full family sized portion
500gms of dried macaroni pasta
50gms butter
1 tablespoon plain flour
500mls milk
1 ½ cups grated tasty cheese
Instructions
1. Preheat oven to 180 degrees Celsius
2. Cook pasta as per packet directions, drain and stir through leftover spaghetti sauce. Place into a large lasagne-sized casserole dish, smoothing the mixture out with the back of a large spoon, and set aside.
3. Melt butter in a medium saucepan. Add flour and stir for a few minutes to combine and to cook the flour. Add the milk to the saucepan a little at a time while stirring constantly. It will be thick and gluggy at first but once all the milk has been added it will have a smooth consistency. Stir through half a cup of cheese and allow to melt.
4. Pour cheesy sauce over the top of the pasta mix and spread with a spatula to cover the mix evenly. Sprinkle remaining cheese over the top and bake in the oven for 20- 30 minutes or until cheese is golden and sauce bubbling at the edges. Serve with crusty bread and a green salad.
https://mumslounge.com.au/lifestyle/food/cheesy-beef-pastitsio/