Mashed Potato To Die For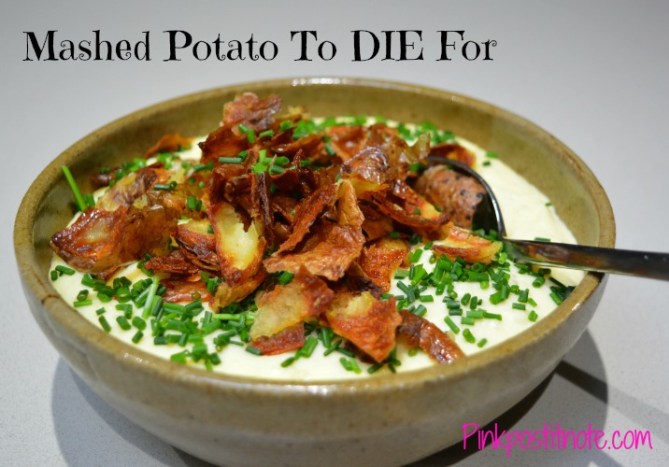 Mashed Potato To Die For
Mashed Potato to die for at this point probably sounds like a distinct impossibility. Mashed potato is pretty boring and humble right? What could possibly be in this to make it to die for? Butter? Cheese? Sour Cream? Salt and pepper? Like, seriously?
Trust me. This will be the best mashed potato you will have ever eaten in your life. And I'm not even that big of a fan of mashed potato because it's so boring compared to the million other ways you can eat it. Squashing it and adding milk and butter is way down the list for me but it happens to be one of my husband's favorite comfort foods. He even eats leftover mashed potato in a sandwich with sauce. Yuck.
This mashed potato is different. For a start the potatoes are baked in the skin. Which, really is easier than peeling them and boiling them and then cleaning a pot right? Not only are they baked in the skins, the skins are rubbed with fat first which makes them super, super crispy. And you are going to save those super crispy skins for later. You will swear it's bacon on top.
The mashed bits have the usual culprits of sour cream, milk and butter and then comes the secret ingredient. Are you ready? It's plastic cheese. You know the processed cheese in individual slices? Yeah, that kind. It sounds weird but trust me. It works. Put it altogether and you will never be able to eat mashed potato the way you used to again.
Ingredients
500g large Dutch cream potatoes, or other mashing potato, scrubbed
1/4 cup lard (but you can use vegetable oil if you must)
100ml milk
100g salted butter, diced, cold
100ml buttermilk
2 tbsp. sour cream
4 slices processed cheese
25g (1/2 cup) thinly sliced chives
Instructions
Pre-heat the oven to 175C (345F). Rub the potatoes with the lard, place in a baking dish and season with sea salt. Bake for about 1 hour or until a fork can be inserted easily into the flesh. Remove from the oven and leave until cool enough to handle.
Increase the oven temperature to 200C (400F). Cut the potatoes in half lengthways, then scoop out as much flesh as possible (you want the skins to be super thin). Return the skins to the same baking dish, laying them cut side up. Bake for a further 15-20 minutes, checking on them after 10, they need to be super crispy and when they're done, set them aside on a bit of paper towel.
Meanwhile, put the potato flesh through a ricer, or mash until the lumps are removed. In a large saucepan, heat the milk until almost boiling. Add the potato flesh, stirring over low heat, until the mixture is smooth and quite thick. In three batches add the cold butter, stirring until melted. Add the buttermilk, stir, then add the sour cream and cheese. Season with sea salt to taste (taste it first because the butter is salted already).
Transfer to a serving dish. Crush the potato skins over the top, then garnish with the chives. Season with coarsely ground black pepper and serve. I served this with rissoles and corn on the cob and kept the potatoes hot in the oven until everything was ready.
https://mumslounge.com.au/lifestyle/food/mashed-potato-die/