Cheesy Italian Sausage Pasta Bake Recipe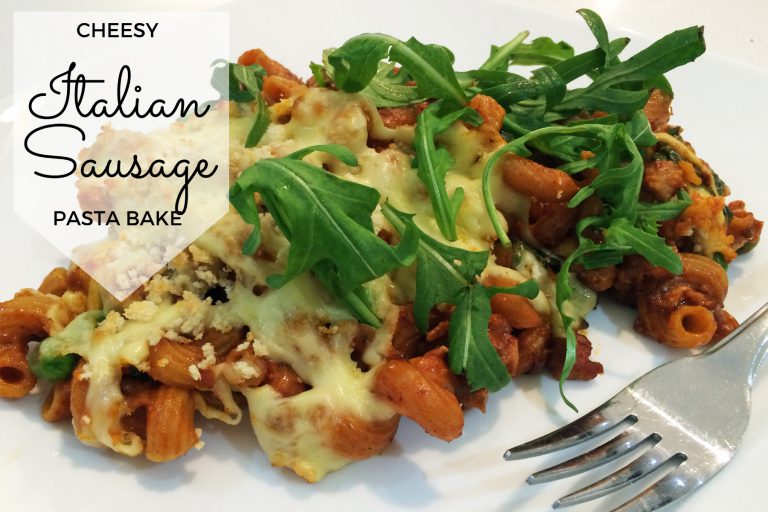 Cheesy Italian Sausage Pasta Bake Recipe
If you're after a switched up pasta bake, this fantastic cheesy Italian sausage pasta bake recipe is the one for you! Boosted by the flavours of Italian beef and pork sausages, this pasta bake is anything but boring.
Here is what you'll need to get this delicious dish on the table.
One packet of Italian beef and pork sausages, three rashers of bacon, frozen peas, fresh basil, mozarella cheese, a tin of condensed tomato soup, an onion, olive oil, chicken stock, panko breadcrumbs, cream and dried pasta curls.
The trick to this recipe are the sausages – you need to squeeze the Italian seasoned sausage meat out of the sausage casings. Then pop it into a frying pan with the bacon and onion and cook until browned. Add the soup, stock and some water and allow to simmer gently.
After twenty minutes, add the pasta and stir to combine. Replace the lid and allow to cook gently until the pasta is tender. Then stir in the peas, cream and basil. Season to taste and sprinkle with mozarella cheese and breadcrumbs.
Then all you need to do is place the frying pan under the grill (make sure it's an oven-proof pan first!) for up to fifteen minutes or until golden and bubbling. Top with some baby rocket leaves and there you have it. One switched up pasta bake! Enjoy!
Cheesy Italian Sausage Pasta Bake
Ingredients
1 tbsp olive oil
1 brown onion, chopped
3 bacon rashers, chopped
420g packet Italian beef and pork sausages
1 cup chicken stock
420g can condensed tomato soup
3 cups dried pasta curls
1/3 cup light thickened cooking cream
1/2 cup frozen peas
½ cup fresh basil leaves, firmly packed
1 ½ cups mozzarella, grated
1/3 cup panko breadcrumbs
Baby rocket to serve
Instructions
Heat oil in a large frying pan over medium-high heat. Add onion and bacon. Cook, stirring, for 5 minutes or until onion is softened.
Squeeze sausages from casings. Add to pan. Cook, breaking up sausage mince with a wooden spoon, for 5 minutes or until browned.
Add stock, soup and 1 cup water. Cover and bring to the boil. Reduce heat to low and simmer for 20 minutes, stirring halfway.
Add pasta and cook, covered, for another 25 minutes or until pasta is just tender making sure to stir occasionally.
Stir in cream, peas and basil. Season with pepper. Sprinkle with mozzarella, then breadcrumbs. Place under a grill on medium heat for 15 minutes or until cheese is golden and bubbling. Serve topped with baby rocket leaves.
https://mumslounge.com.au/lifestyle/food/cheesy-italian-sausage-pasta-bake-recipe/