Slow Cooker Ragu Tagliatelle Recipe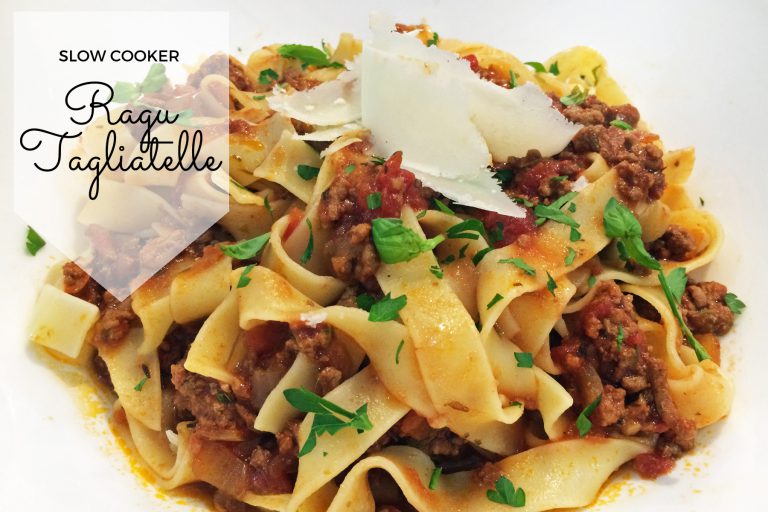 Slow Cooker Ragu Tagliatelle Recipe
This rich slow cooker ragu tagliatelle surpasses plain old spaghetti bolognaise any day of the week!
Slow cooking is perfect for those busy days when you just want to set and forget about dinner. Spring is a wonderful time to make use of your slow cooker as well, as you can enjoy the beautiful warmer days and have a comforting slow cooked meal to eat in the colder evenings.
Using a mixture of beef and pork mince gives the ragu a richness that beef mince alone cannot give. You can buy packets of beef and pork mince combined together in the one package in the meat section of the supermarket for about the same price as premium beef mince.
This recipe makes a lot of ragu. We are a family of six (with four children under 11) and this makes enough for us for two full meals. But that is a blessing, and you'll see why when you taste it! You can use the leftovers in many other meals like this yummy pastitsio, cheesy beef canneloni, lasagne, or even on top of toast or baked potatoes. The options are only limited by your imagination!
It is really easy to throw together – just brown the mince in a frying pan and drain off the oil. Then tip the mince into your slow cooker bowl with the rest of the ingredients (including mushrooms and red wine), give it all a good stir and cook for at least 6 to 8 hours.
Then just boil up your tagliatelle pasta and spoon your rich, tasty ragu all over the top. Don't forget some freshly chopped parsley and fresh parmesan too! It's the little things that make us happy. So good!
Slow Cooker Ragu Tagliatelle
Ingredients
1kg beef & pork mince
3 x 400gm tins of diced tomatoes
2 beef Oxos
4 tablespoons of tomato paste
½ cup of red wine
1 tablespoon of dried basil
1 tablespoon of dried oregano
1 tablespoon of dried thyme
1 cup of water
2 onions, finely diced
200g mushrooms, sliced
2 tbsp soy sauce
Salt and pepper to taste
3 bay leaves
500g dried tagliatelle
fresh parsley and grated parmesan to serve
Instructions
Brown the mince in a frying pan, breaking up with a spoon until cooked, Drain in a wire colander to remove excess fat.
Transfer mince to slow cooker pot and turn on High. Add the rest of the ingredients except for the dried pasta and fresh parsley. Stir well to combine.
Cook on High for 6 hours or Low for 8 hours.
Serve with cooked pasta, parmesan and chopped fresh parsley.
https://mumslounge.com.au/lifestyle/food/slow-cooker-ragu-tagliatelle-recipe/