Cheesy One Pan Chorizo Pasta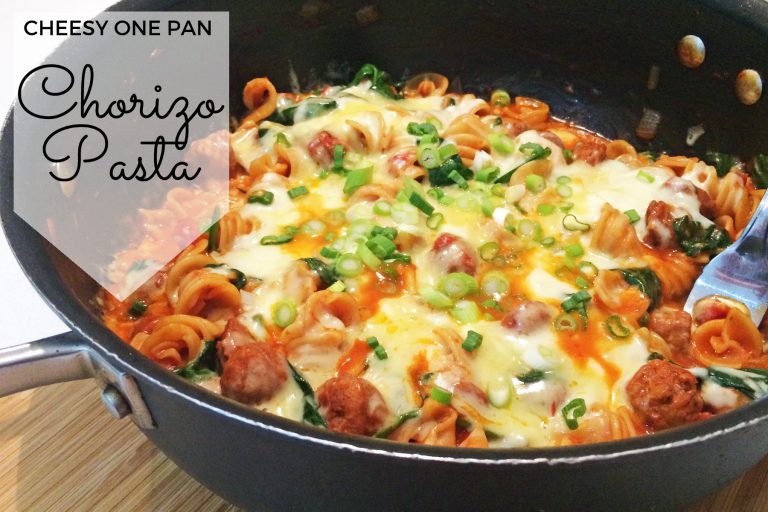 Cheesy One Pan Chorizo Pasta
We made this fabulously cheesy one pan chorizo pasta the other night. Oh wow. It was amazing, seriously. Hardly took any effort at all! And while it seems like a very simple recipe, it certainly packs a big punch. It calls for chorizo sausages from the meat section at the supermarket – not the dearer fancy ones in the deli section. If you don't like chorizo sausages, you could try this with your favourite Italian sausages or just use plain ones and add some extra salt, pepper and chilli flakes to taste.
Trust me, you need to try this one. Save it, print it, share it, whatever. Just get on it!
Cheesy One Pan Chorizo Pasta
Ingredients
500gm packet of Coles Finest Chorizo sausages
1 tablespoon of olive oil
1 medium onion, finely chopped
400gm can diced tomatoes
2 cups chicken stock
250gms dried pasta
150g bag of baby spinach
1 cup grated tasty cheese
1 green onion, finely chopped
Instructions
1. Thinly slice the uncooked chorizo sausages and fry in olive oil in a large frying pan on medium heat for 5 to 7 minutes or until cooked. Add the onion and continue to cook, scraping up the flavoursome sticky bits at the bottom of the pan.
2. Add the tin of tomatoes, the chicken stock and stir well to combine. Then add the pasta, making sure it is fully submerged in the cooking broth. Cover, bring to the boil, then turn down low. Cook for ten minutes, stirring twice to ensure the pasta doesn't stick.
3. Keeping the pan on the low heat, take the lid off and add the spinach, stirring to combine. Sprinkle the grated cheese on top, replace the lid, and let it sit for a few minutes or until the cheese has melted. Sprinkle green onions over the top and serve with crusty bread.
https://mumslounge.com.au/lifestyle/food/cheesy-one-pan-chorizo-pasta/