Herbed Beef Curry Recipe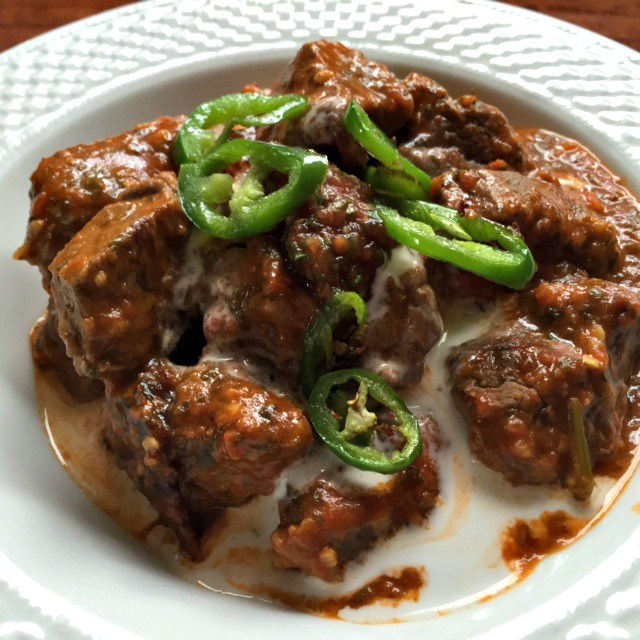 Herbed Beef Curry Recipe
Are you a coriander lover or hater? I recently liked a Facebook page called I Hate Coriander because I absolutely despise it. And there doesn't seem to be any middle ground where you can take it or leave it. There's the haters. And there's the lovers. I think it looks like a weed and it tastes like a weed and therefore every single recipe I come across that has it listed I substitute with parsley. Thus this recipe has parsley in it as opposed to my afore-mentioned nemesis. So if you love coriander yourself, you go right ahead and use it.
Now that we've got that out of the way, let me tell you about this dish. Firstly, don't be scared by the paste produced from the spices and parsley/coriander. It looks kindof scary and it does not taste good if you dip your finger into it (I know this because I did that). But…but… some magic happens while it slowly cooks away, the heat of the chilli disperses and all the flavour goes into the most tender, falling apart beef. When you add that coconut cream and add the fried chilli on top. It is literally to die for!
Ingredients
1.5kg (3 lbs) chuck steak or gravy beef
6 fresh long green chillies
35g (21/2 oz) fresh ginger, chopped coarsely
4 cloves garlic, chopped coarsely
1 can crushed tomatoes
1 tbsp tomato paste
2 tsp sea salt flakes
2 1//2 cups firmly packed fresh coriander leaves (or PARSLEY)
1 1/2 tbsp vegetable oil
400ml canned coconut cream, divided
Instructions
Cut beef into 5cm pieces.
Coarsely chop 4 chillies. Thinly slice remaining chillies, reserve.
Blend or process chopped chilli, ginger, garlic, tomatoes, paste, salt and 2 cups of the coriander (or parsley) until smooth. Reserve 1/2 cup of the paste; cover, then refrigerate.
Heat 1 tbsp of the oil in a large frying pan over medium-high heat; cook beef, in batches, until browned. If your frypan has a lid you can keep the beef in the pan, otherwise transfer to a medium size pot with a lid.
Combine remaining paste and 1 cup of the coconut cream in the pot (refrigerate remaining coconut cream until ready to serve).
Cook, covered on a simmer for approximately 2 hours, stirring occasionally and testing the meat until it is super tender. Season to taste.
Heat remaining oil in a small frying pan; cook sliced chillies, stirring, for 2 minutes or until softened.
Serve curry drizzled with remaining coconut cream, topped with reserved herb paste, chilli and remaining herbs.
https://mumslounge.com.au/lifestyle/food/herbed-beef-curry/