Cheesy One-Pan Spaghetti Bolognaise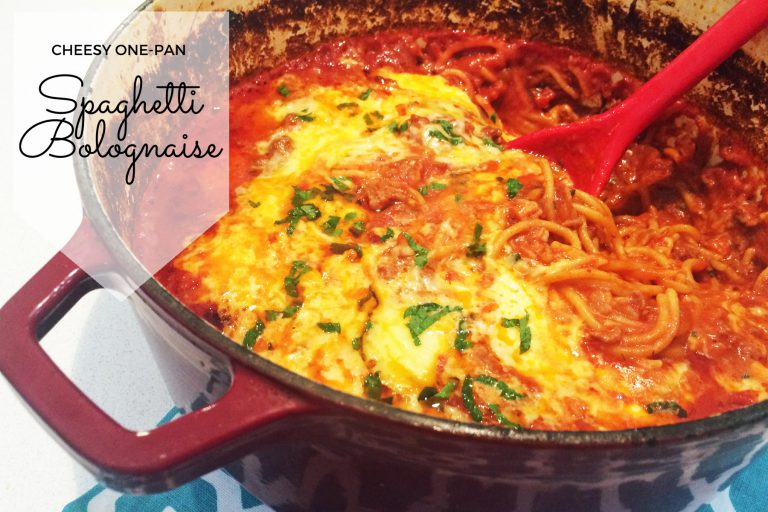 Cheesy One-Pan Spaghetti Bolognaise
This wonderfully cheesy one-pan spaghetti bolognaise packs a massive flavour punch without dirtying more than one pot. I don't know about you, but that sure works for me! The gooey melted cheese adds a delicious twist to a classic family favourite that is so easy to make and even easier to eat!
It is a quick week-day meal which will satisfy the whole family. Serve with fresh crusty bread or garlic bread.
Cheesy One-Pan Spaghetti Bolognaise
Ingredients
1 tablespoon olive oil
1 brown onion, finely chopped
1 carrot, finely chopped
1 stalk celery, finely chopped
4 shortcut bacon rashers, trimmed and chopped
2 garlic cloves, finely chopped
500g beef mince
1/3 cup tomato paste
2 x 410g cans of diced tomatoes
3 cups chicken stock
6 sprigs of fresh thyme
250g dried spaghetti
¼ cup chopped fresh parsley leaves
¾ cup grated tasty cheese
Extra chopped fresh flat-leaf parsley to serve
Instructions
Heat oil in a large heavy-based flameproof casserole pan over medium-high heat. Add onion, carrot and celery and cook, stirring occasionally, for 3 minutes or until onion starts to soften. Add bacon and cook for 3 minutes or until golden. Add garlic. Stir to combine.
Add mince to dish. Cook, breaking up mince with a wooden spoon for 5 minutes or until browned all over.
Stir in tomato paste, tomatoes, chicken stock and thyme sprigs. Cover and bring to the boil. Break spaghetti in half and add to the pot.
Reduce heat to medium. Simmer, uncovered, for 15 minutes or until spaghetti is tender and sauce has thickened, stirring mixture every 5 minutes.
Remove pot from heat and turn grill on High. Remove and discard thyme sprigs. Add parsley, season with salt and pepper and stir to combine.
Top with cheese and place under the grill for 5 minutes or until golden and bubbling. Serve with crusty bread or garlic bread.
https://mumslounge.com.au/lifestyle/food/cheesy-one-pan-spaghetti-bolognaise/