Cheesy Polenta Sausage Bake Recipe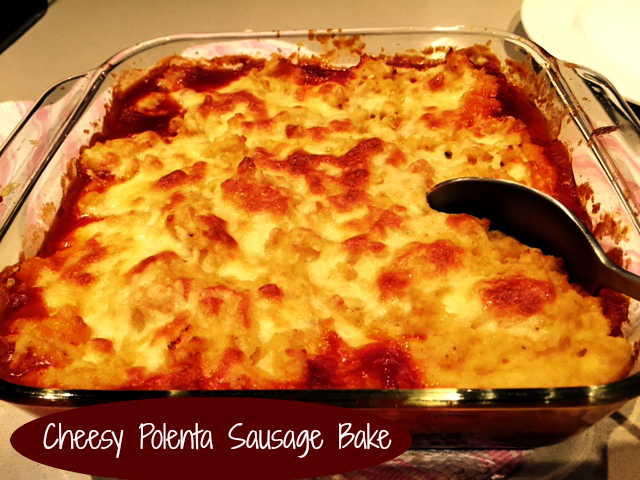 Cheesy Polenta Sausage Bake Recipe
Being Canadian I tend to be a little bit smug when my relatives send me emails complaining about how freezing cold it is from September onwards just when I'm dragging shorts and thongs out of the cupboard here in Melbourne. Although having said that, being from Melbourne it is possible to have 4 seasons in one day. Anyway I originally made this dish last April when it still should have been reasonably warm but it was a freezing cold day and it hit the spot perfectly. Sadly it is now April AGAIN and my relatives are thinking of dragging their shorts out of the cupboard while I stare at beanies and fuzzy slippers. It's been raining today and I'm thinking it's time to put away the salad recipes and the BBQ recipes and start thinking of cold weather comfort food and this Cheesy Polenta Sausage Bake ticks all those boxes.
I don't usually cook with polenta very often and I was pretty worried the resident food critic in the house would turn his nose up at this dish particularly with the addition of fennel. Sausage, polenta, fennel, red wine, thyme – a lot of competing things but I liked the look of the easy recipe – cooked sausages removed from their casings tossed with some tomato puree, wine and thyme, the sauted onion, garlic and fennel. Polenta is super easy to make just bringing some stock and milk to a boil then adding the polenta and cooking for literally 30 seconds. Toss in some cheese and seasonings and bake. You could make this up and freeze it as a get-ahead meal or prepare in the morning ready to toss in the oven for dinner or just make it and have it ready from start to finish in around 30 minutes!
Cheesy Polenta Sausage Bake Recipe
Ingredients
Olive oil
1 brown onion, finely chopped
2 baby fennel bulbs, thinly sliced
2 garlic cloves, crushed
1kg good quality pork sausages (I used Jamie Oliver's)
125ml (1/2 cup) red wine
400g can tomato puree
1/2 cup water
3 fresh thyme sprigs
Polenta Topping
2 cups chicken stock
1 1/4 cups milk
1 cup instant polenta
3/4 cup grated mozzarella
1/2 cup finely grated parmesan
Instructions
Preheat oven to 200C/180C fan-forced.
Heat 2 tbs oil in a large frying pan and add the onion and fennel. Cook until golden and soft. Then add the garlic and cook for 2 minutes.
Squeeze the sausage meat from the casings into the pan and break up with a wooden spoon. Fry until browned. Add the wine and simmer for 2 minutes. Then add the tomato puree, water and thyme. Pop the lid on and simmer for 10 minutes then transfer to a 2.5l baking dish. (I used a 9 inch baking dish but only cooked half the amount of the sausage mixture as it was just the two of us).
For the polenta, bring the stock and milk to a boil in a saucepan over high heat. Reduce to low and add the polenta slowly while whisking constantly until combined. Continue to stir until it is cooked and soft (mine took literally 30 seconds). Stir in half the cheeses and season with salt and pepper.
Spoon the polenta over the sausage mixture and sprinkle with remaining cheese. Bake for 20 minutes or until cheese is melted and golden.
https://mumslounge.com.au/lifestyle/food/cheesy-polenta-sausage-bake/