Cheesy Tomato Rice Bake with Mince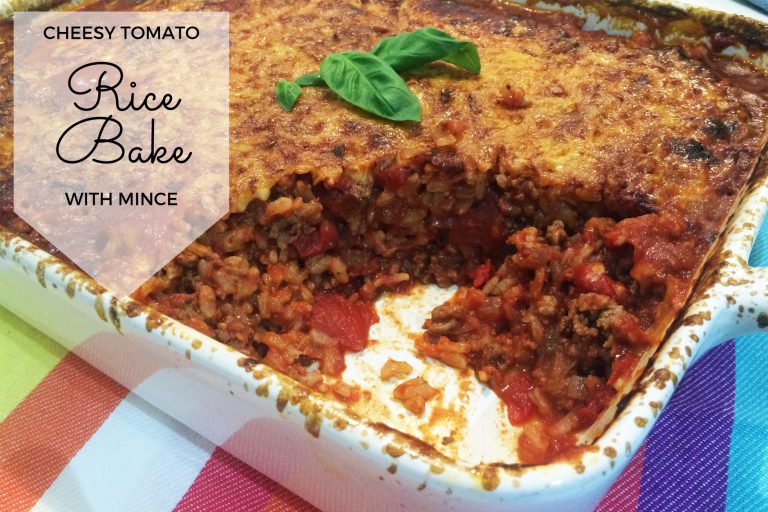 Cheesy Tomato Rice Bake with Mince
This is definitely my most popular recipe ever. When my children ask what's for dinner, they often ask if we're having cheesy tomato rice bake before I even get to answer! When I first made it, I used diced chicken breast but I have found it to be much nicer with mince instead. It turns out like a cross between a spaghetti bolognaise, a risotto and a pasta bake.
This recipe makes a lot  – enough to fill a 33 x 23cm (or a 13 x 9 inch) lasagne or casserole dish. But that's fine, because everyone will be asking for seconds! It freezes and reheats well too, so any leftovers won't go to waste.
You can add vegetables to make it healthier and go further also – think spinach, mushrooms, capsicum, grated carrot, zucchini, peas etc. This dish is versatile, cheap and tasty. Just what you want for family cooking.
Cheesy Tomato Rice Bake with Mince
Ingredients
1 tablespoon olive oil
1 onion, finely chopped
1 clove garlic, minced
500g beef mince
3 x 400g tins diced tomatoes
1 beef Oxo
4 tablespoons tomato paste
1 tablespoon Masterfoods Tuscan Seasoning
¼ teaspoon dried chilli flakes
1 tablespoon dried thyme
1 ½ cups Arborio rice
1 cup tasty cheese, grated
Instructions
1. Preheat oven to 180°C.
2. Heat oil in a heavy based pan and sauté onion and garlic until softened. Add mince and cook, breaking up with a spoon until browned.
3. Add tins of tomatoes, and refill one tin with water. Dissolve beef oxo in the tin and add to the pan with tomato paste, herbs, seasonings and Arborio rice and stir to combine. Bring to the boil and allow to simmer for a minute or two.
4. Pour mixture into a large lasagne dish and sprinkle grated tasty cheese over the top. Bake in oven for 45 minutes or until rice is cooked. Serve with crusty bread.
https://mumslounge.com.au/lifestyle/food/cheesy-tomato-rice-bake-mince/